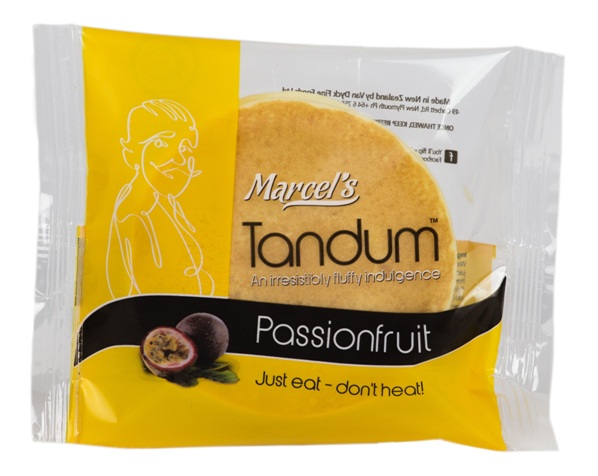 Marcel's Tandums are a food category first, an original product that prior to 2014 had not been made and sold anywhere in the world!
Marcel's Tandums are an irresistibly fluffy indulgence with a flavoured and creamy mascarpone filling. Each Tandum is individually free-flow wrapped for your convenience. Simply unwrap and eat – no heating required!
Marcel's Tandums have been specifically created as a satisfying snack on-the-go. They are ideal for schools, caterers, convenience stores, supermarkets, and dairies. They are particularly handy for mothers who are looking for a lunch box treat or after school snack for their children. Tandums are also available on selected international airlines and have been successfully exported to Asia, including Starbucks Malaysia.
Single Tandums (available in Chocolate or Passionfruit) are located in the bakery department chiller section of participating supermarkets and have a shelf life in the fridge at home for up to five days. Tandums are also available in a family-friendly six-pack in Passionfruit – perfect for the boat, bach, or Summer picnic, and are available in the freezer section of participating supermarkets nationwide.
Marcel's is the retail brand of New Plymouth-based Van Dyck Fine Foods, and Tandums are the latest addition to the Marcel's retail range. Many readers will be familiar with Marcel's other mouth-watering products, including hotcakes, mini hotcakes, crepes, and blinis for easy Summer entertaining.
In 1999 Marcel Naenen and Inge Vercammen emigrated from Belgium to New Plymouth and started Van Dyck Fine Foods. Marcel, a successful bakery engineer in Europe, designed the factory and high-tech baking equipment himself.
Fourteen years later, Van Dyck Fine Foods' factory is more than twice the size and a much-respected brand in the food service and consumer markets. In addition to retail Van Dyck supply the hospitality sector with high quality pre-cooked crepes, hotcakes, mini hotcakes and blinis for catering.
Marcel's Tandums are available individually from the bakery department chiller section, or in a six-pack in the freezer department of participating supermarkets and specialty food stores nationwide. Singles RRP $1.79 or six-pack RRP $8.50. For more information, visit: www.marcels.co.nz.
For interviews or images, please contact Isadora Sutherland at Food Marketing Ltd.
Email: [email protected] or Phone: 09 579 1862.