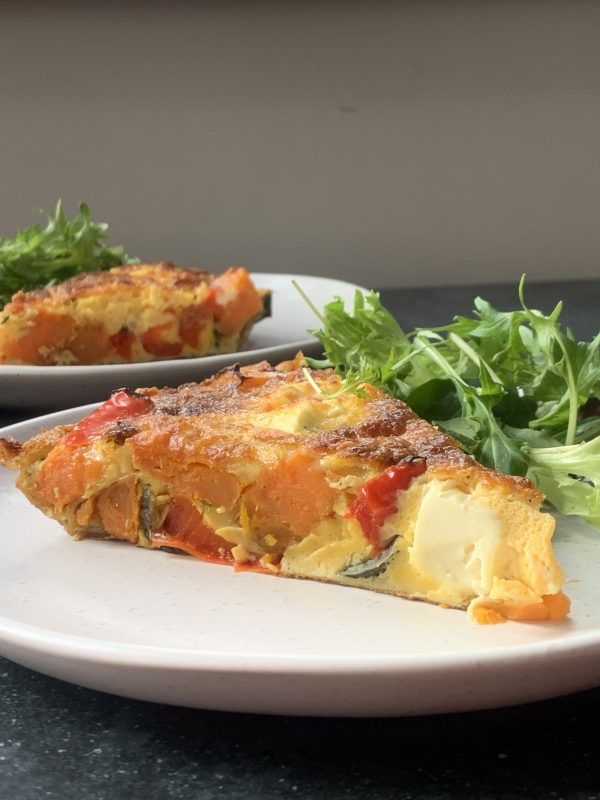 Frittatas are super easy and so convenient.  I often make one on a Sunday, have some for a simple dinner that night and the rest is lunch for the next couple of days.
Ingredients
2

medium sized orange kumara, peeled and chopped into 2.5cm chunks

1

red capsicum, seeds removed and chopped

1

red onion, roughly chopped

1

tablespoon finely chopped rosemary

olive oil

10

Traditional Free Range Eggs

200g

feta, chopped into 2cm chunks

1/2 cup

pizza blend grated cheese (Parmesan, cheddar and mozzarella)
Method
Preheat the oven to 200 C. Toss the kumara, capsicum, onion and rosemary with olive oil, arrange in a single layer in a roasting dish and bake for 20 minutes until the kumara is tender. Change the oven setting to grill. Lightly whisk the eggs together in a large bowl and season with salt and pepper. Heat a film of oil in a heavy based 28cm frying pan over a medium heat. Combine the eggs, vegetables and feta and carefully pour into the pan. Sprinkle with the grated cheese. Cook until the frittata is almost set and then sit under the grill just until the top is set. Serve warm or at room temperature with a crisp green salad.