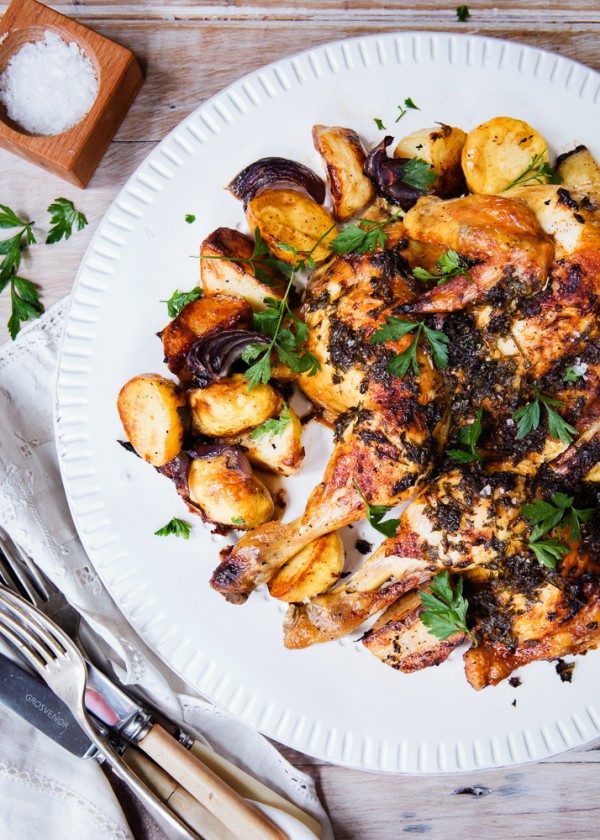 Ingredients
1 x size 16

Rangitikei Free Range chicken

3

cloves garlic

2

red chillies, roughly chopped

2 teaspoons

sweet smoked paprika

2 teaspoons

dried oregano

1/4 cup (60ml)

lemon juice

1/4 cup

parsley leaves

1 tablespoon

olive oil

1 teaspoon

sugar

1 teaspoon

sea salt
Method
Butterfly the chicken by placing it breast side down on a chopping board and then using strong kitchen scissors or a chef's knife, cut down either side of the back bone.  Discarding the bone.  Turn the chicken over and gently press to flatten. In the bowl of a food processor place garlic, chillies, paprika, oregano, lemon juice, parsley, oil, sugar and sea salt.  Pulse until a paste.
Massage the paste into the chicken, cover and refrigerate for at least 2 hours but preferably 8 hours.
Heat the oven to 200 C or a barbecue hot plate.  Cook the chicken in the oven for 50 minutes or until golden, crisp and juices run clear when pierced with a skewer.  For barbecue cooking, place the chicken, skin side up on an oiled hotplate at medium heat.  Cook for 30 minutes before turning, increase the heat to ensure crisp skin and cook until juices run clear when the thigh is pierced with a skewer.
Serve with roasted potatoes/kumara and a crisp green salad.