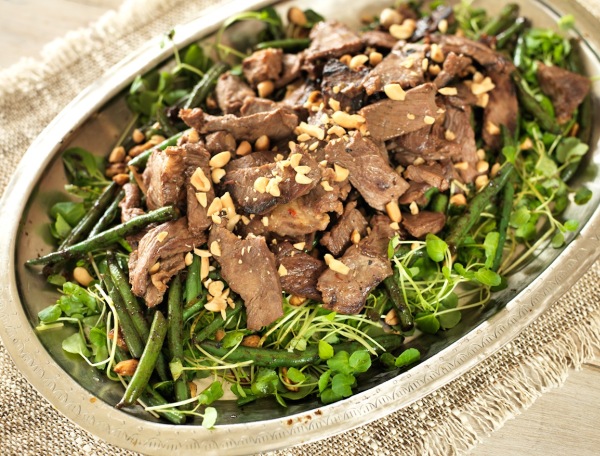 Ingredients
500g beef sirloin or fillet 
 


Marinade:


generous grinds of freshly ground black pepper


1 1/2 teaspoons sugar

2 cloves garlic, finely chopped

1 tablespoon oyster sauce

1 tablespoon fish sauce

1 tablespoon soy sauce

Dressing:


1 spring onion, thinly sliced

1 1/2 teaspoon sugar

salt and freshly ground black pepper

1 1/2 tablespoons rice vinegar


2 tablespoons water

1/3 cup roasted peanuts, roughly chopped

watercress and steamed green beans to serve
Method
Trim excess fat from the beef and then cut into small chunks or slices.
.In a bowl, combine the pepper, sugar, garlic, oyster sauce, fish sauce and soy sauce. Add the beef and toss well to coat. Set aside to marinate for 20 minutes or up to 2 hours.
2. For the dressing, combine the spring onion, sugar, salt, pepper, vinegar and water. Stir to dissolve the sugar.
Heat a drizzle of oi in a wok or large frying pan over a high heat. Cook the beef in batches, allowing it to sear for about 1 minute, before shaking the wok or pan to sear another side. Cook for another 30 seconds or so and shake. Cook the beef this way for about 4 minutes total, until nicely browned but not overcooked.
4. Arrange the steamed beans and watercress on a platter, drizzle with dressing and top with beef.  Sprinkle with peanuts and serve with rice.