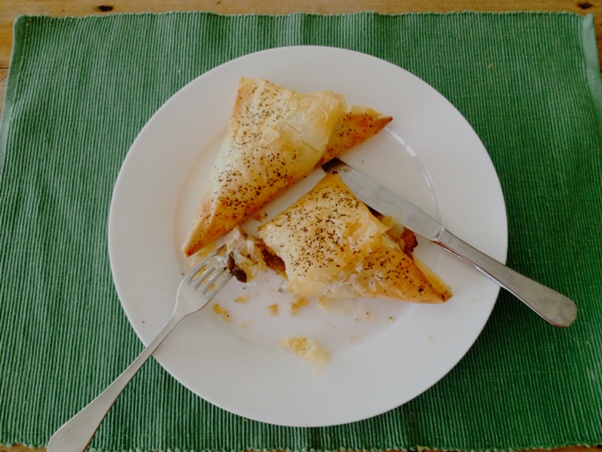 Rebecca
1 onion, finely chopped
100g button mushrooms, finely sliced
1 teaspoon thyme leaves
1 tablespoon plain flour
3/4 cup chicken stock
2 handfuls chopped cooked chicken
250g filo pastry
½ cup melted butter
Heat a film of oil in a frying pan and cook mushrooms, tarlic and thyme until onion is tender. Add the flour and cook for few minutes before adding the chicken stock and cooking until the liquid bubbles and thickens, mix through the chopped chicken, taste and season with salt and pepper and then and set aside.
.Preheat the oven to 190 C Brush one sheet of filo pastry with melted butter and place another sheet on top. Continue to stack until you have 4 sheets with butter in between.
Cut strips of filo approximately 12 cm wide. Place  filling at one end of a filo strip and fold into a triangular shape.
.Place the parcels on a cold oven tray and bake for 15 minutes, until golden.
Serve warm
Serves 4.