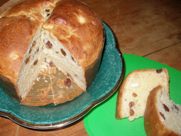 Virgil Evetts
I'm not a regular kneader.  For the most part I find the rules and regulations of baking altogether too stuffy.  I really don't like being told what to do in the kitchen and baking recipes always read like a barked command to me.  I do however have a real passion for, nay addiction to, European festive breads. There is something so alluring and mysterious about the art [and although loathe to apply that word to food, it fits here] behind panetonne, pandoro [a wonderful bread which curiously the bakery of the same name does not produce], stollen and their various kith and kin.  Seeing as this most regal family of baked goods is pricey and poorly represented on local shelves, I have made something of a tradition out of making my own.  Everything about this process/ritual excites me; the rich silken dough, the exquisite dried and glace fruit, the citrus zest and, OMG, the smell!!!
So this is the one time of the year when I happily set aside my baking resentment issues, haul out the scales, liberally dust the kitchen in high-grade flour and put my dough hook to some serious use. Ooo-err.  Even if my results don't entirely stack up against their imported counterparts [I think they come pretty close], the whole exercise is so utterly Christmassy that it almost doesn't matter. It's as much about the trip as the destination.
Everywhere you go in Europe around Christmas time, you'll find various seasonal breads. They all tend to be rather similar beasts; sweet yeast dough enriched with butter and eggs [essentially heavily-embellished brioche] and further fortified with fruits, nuts, citrus zest and sometimes spices.  Lovely, fluffy,  fragrant delights.
And then there are the dour 'cakes' of English Christmas tradition. Why is it so much of English Christmas food seems to be designed to depress? Brussels sprouts, bread [!!!!]sauce, Christmas cake… it's like paying penance by the spoonful.   All of these miseries are curiously popular with elderly woman.  Is there a correlation?
On the continent, by contrast, everything is sunshine and light, even if it does get dark at 3pm. Christmas foods are bright and cheerful and, dare I say it… celebratory. Well maybe I'm exaggerating just a little. Some of those pickled herring contrivances of the Netherlands and beyond are pretty grim.
Panetonne is by far the best known member of the illustrious and very large clan of continental Christmas cakes. Even if you don't know the name you will be familiar with the loaf.  The distinctive high-domed, paper-cased, raisin and peel-studded treats fill the shelves of specialty food stores and bakeries everywhere you turn from around November on. The high-end imports come trussed up in absurdly ornate boxes and great swathes of coloured cellophane and tissue. I'm normally suspicious of pretty packaging- are they overcompensating for something? But in true Italian style, panetonne has both looks and substance.
A far from humble bread, panetonne is seriously steeped in a lot of rather dubious myth and legend, especially about its origins. The most persistent tall tale involves a smitten baker by the name of Tony who is said to have invented a racy new treat as a Christmas gift for his love interest – thus pane- Tony [Tony's bread]. Nice story but probably not even remotely true. What we do know as fact is that an enriched [baker-speak for full of eggs and butter] bread called panetonne has been made in Milano for at least a few hundred years and that it was probably designed to resemble a cathedral cupola. The addition of fruit, fat, nuts and eggs was common trait of pagan festive foods [it's all about fertility and such] and one that the Christians merrily adopted when they had done with converting or slaughtering the filthy heathens.  
In Italy there is a strong tradition of gifting panetonne to all and sundry at Christmas. It's the default gift for anyone who isn't immediate family.  Funny thing is you could get the feeling that nobody really likes them very much.  Re-gifting of panetonne is not only an acceptable practise but the norm. I have heard of people receiving a panetonne which they had gifted to a third party several years earlier. Actually opening the box and eating the bread appears to be rather rare. As much as I adore panetonne, I can sort of understand how this could happen in Italy. Italians are spoiled for choice when it comes to good food at the best of times, but around any major holiday things can get seriously out of hand as culinary one-upmanship takes over.  One can only eat so much.
For a number of years I obsessed about making panetonne. It's notoriously complicated you see, considered almost impossible in a domestic setup by most Italians. Well, I wasn't about to let that get in my way. I tried dozens of recipes, bastardized and hybridised several and eventually came up with a version that I am, just quietly, rather proud of.
Now, before you go too much further, a word or two of warning…
If at all possible use an electric mixer to work the dough. It needs a serious assault kneading-wise, and while I'm sure it's quite do-able by hand you may wind up with permanent wrist damage, dooming you to an eternity of smutty ribbing.  This recipe has been tested in a fan-forced oven, on warm, dry days. I don't know how well it will turn out in a regular oven; probably fine but no guarantees. If it's a rainy or ultra-humid day, of the sort Auckland is so very good at putting on, you might as well pack away your mixing bowls. Do not proceed.  Humidity can play havoc with all baked goods but none more so than enriched breads. Oh the horror.
Well then, enough with the chatter. Here it is,  my very own recipe for panetonne. Consider it my Christmas gift to you…
Panetonne alla Virgili
3 tsp dried yeast [dissolve in a little warm water with a pinch of sugar]
3 cups+ high-grade flour
7 Tbs white sugar
7 Tbs butter
3 free-range eggs [not jumbo]
¾ – 1 cup milk [NOT non-fat]
½ tsp salt
½ cup raisens
½ cup glace peel [good quality and roughly chopped].
1-2 tsp pure vanilla essence.
Note: Ensure all ingredients are at room temperature before proceeding.
Optional: Paper panetonne cases. Available from good kitchen supply stores.
Method
Combine flour, sugar and salt in mixing bowl.  Add butter and begin mixing using the dough hook. Add eggs and continue mixing. Add yeast and vanilla essence and slowly add the milk. Leave to mix for about 5 minutes. As with all bread dough, the mixer should be set at its lowest speed. This is more to do with not burning out the motor than the needs of the dough.
The dough should now be very soft, elastic and slightly sticky.  At about this point you might be panicking, because for reasons that I've never been able to work out, the dough sometimes needs rather a lot more flour. Don't worry, just add flour until the dough looks and feels as described above. If by any weird chance it's too dry, add more milk. Trust me; you'll know when it's ready.
Mix for a further 10 minutes. Cover with a plastic bag or similar and allow to rise for about 2-3 hours or until well risen.
Punch down and mix again for 5 minutes. Cover again and leave to rise for about 1 hour. Punch down again and slowly start adding the fruit, gently working it in by hand. When all the fruit has been incorporated form into a large ball and place in a panetonne case or a deep, 20cm round non-stick cake tin. Ensure any folds are at the bottom. Cover loosely and allow to rise again for about 2-3 hours.
Pre-heat oven to 150c. If you have a pizza stone or cast iron skillet, use this as a tray. Uniform heat is important. Using a very sharp, greased knife cut an X on the top of the dough, place a generous Tablespoon of butter in the middle. Gently place in oven. Watch closely after the first 20 minutes but do NOT open the oven yet. The bread should rise up and eventually form a golden/brown dome. It may split as it cooks- this quite normal. From about 40 minutes it should be safe to start testing with a wooden skewer. When the skewer comes away clean from the centre, your panetonne is done. This may take up to 1 hour. Every oven is different.
Remove from the oven carefully and allow to cool on rack in a warm draft-free place.
Panetonne goes exceedingly well with coffee or dessert wines, depending [perhaps] on the hour of the day. It's gorgeous lightly toasted and generously buttered and makes a trifle to put all others to shame.
Enjoy and a very Happy Christmas to you all.