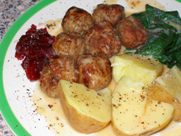 Around the world in 80 Hejs – My ongoing world tour of Swedish fast food–joints
Virgil Evetts
I've just returned from Thailand and Malaysia, both homes to a wealth of wonderful, exciting foods. So how is it that instead of nasi lemak or tom kah gai I'm writing about Swedish meatballs? Well, sit back while I spin you a tale of woe, gallantry and processed meat.
 My best beloved has a dangerous, obsessive fixation with those global purveyors of all that is smart and cheap, Ikea. This means that travel with her always involves a trip, or as is far more likely, numerous trips to the nearest branch. Of course, Ikea stores are never particularly near, meaning long taxi journeys to far-flung industrial estates or perilous train trips to the often scary [I'm Devonport born and bred, so am easily frightened] outer suburbs of big cities. The trip to the Rome branch was particularly harrowing. Highlights included being trapped in a tube station during a Gypsy knife-brawl and walking along an Autostrada on-ramp at night. The Autostrada lacks both footpaths and speed limits.
As you can see, I'm a kindly, indulgent partner, so it's only fair that I get something in return. So I have one small condition. If I must endure another 2 hours in the land of flat packed furniture, I get to eat at the Ikea restaurant. More specifically eat meatballs or köttbullar with boiled potatoes, cream sauce and lingonberry jelly.
I know, it's mass produced, additive-rich, ultra-processed, faux-food. But I find it all so irresistibly good.
For some time I kept this shameful fetish to myself. However, when I finally visited I Sweden last year I learned [to my endless delight] that the Ikea rendition of this very traditional dish is considered pretty much archetypal. I even met a family of Swedes who had never bought furniture from Ikea [too passé and mass-market , they were Architects you see] but ate dinner there every Friday night! 'Better than my mother made' said the father.
So finally it's out in the open. I love Ikea meatballs, and Sweden is right behind me!
 Whenever I fall in love with a dish I immediately need to know how it's made. Not only so I can replicate it at home, because while it's nice to add another feather to ones cap, the best meals are often more about the time, place and company than flavour. For me, knowing how a dish is made helps me to appreciate and understand it properly, even if I never make it again. Having said that, I enjoy eating köttbullar anywhere and anytime, and have done so on most continents, thanks to the world-wide reach of the Ikea empire and now, my ability to replicate it or something very like it anyway.
It took a couple of years on and off to work out my köttbullar recipe. I did much reading, much cooking and much tasting before I felt like I'd come anywhere close to the Swedish original. I can guarantee that the recipe is reliable and very easy. I believe that it's a pretty true and rather good rendition of this great, if somewhat humble national dish. You can decide if I've hit the mark.
In true Scandi-fashion, this is a dish of bold flavours and textures but it demonstrate a degree of restraint and discipline more akin to the Japanese culinary aesthetic [in terms of the sparseness, not the actual flavours] than anything you would find in Southern Europe. Furthermore, this its very much the sum total of its parts. The meatballs are very nice on their own, but only truly shine when brought together with the cream sauce, the potatoes, the lingonberry [or cranberry] jelly, and the wilted greens. It's really one of those 'don't mess with the classics' sort of things. Call me a purist if you will.
Although I'd rather not know what goes into the processed version of köttbullar [regardless of how good they may taste], traditionally the Swedes use a mix of veal or beef and pork. However you may feel about pork farming and swine-welfare, the meat is important here. It counters the dryness of the beef and helps to bind the mixture. The spices: nutmeg, allspice and white pepper are very traditional and much used in Northern Europe and give a lovely sweetness and fragrance to the meatballs.
The cream sauce is really just reduced, thickened beef stock with a little [or a lot of] cream added, but it's awfully good. You may even find yourself wondering if you could get away with sculling it from the jug when nobody is looking. I can tell you its possible but requires a good diversion. You can't cut-corners with the stock. It has to be home-made [ok, so there are one or two passable commercial brands, but none of them come in cubes!] and it has to be very good.
Lingonberry jelly appears on the table as an almost standard condiment in Sweden. It has a very similar taste to cranberry [a closely related plant], but it's just a little tarter, with a more defined taste. In this dish, the sharpness contrasts nicely with the richness of the cream sauce and the sugar marries with the nutmeg and allspice in the meat. Lingonberries grow wild all over Scandinavia, and picking them is a popular summer pass-time . In New Zealand, you can get Lingonberry jelly in the odd speciality shop, but it may take some searching. Cranberry works just as well. The greens can either be spinach or silver beet, but should only be just cooked. The velvety texture and slight salty-bitterness is the last piece in the flavour puzzle really. You will notice this dish is not exactly in the Weight-Watchers mold of cooking. The meatballs and the sauce both include cream, and butter sneaks in on the act too. Spare me your substitutions; it's just a bit of fat.
 Köttbullar [Swedish meatballs)
For the meatballs
 About 250 grams each of beef and pork mince
1 handful of fresh, finely ground wholemeal bread crumbs
1 egg
¼ cup cream
1 tsp ground nutmeg
1 tsp ground allspice
1 tsp ground white pepper
Salt
 For the cream sauce
1 small knob of butter and/[preferably]or cooking juices from the meatballs.
1-2 tbls flour
500 mls rich, preferably home-made beef stock. Absolutely NOT stock cubes.
½ cup + fresh cream
Preheat your oven to about 190-200 C.
To make the meatballs
Put all of the ingredients into a mixing bowl and… mix. The meat needs far more blending than you are probably used to with other meatballs. Ideally use an electric mixer or if you rely on peddle-power, get your hands in there and kneed it like bread dough that has offended you. If the mixture is too wet add more bread crumbs, if it's too dry, add a little more cream. You should end up with a completely smooth, homogenised, pink paste. It should feel light, airy and only slightly sticky. I can't stress enough, the mixing is really important.
A step that otherwise very clever chefs often overlook with meatballs, patties and sausages, is that you must always, cook a small test piece in a hot pan. Never trust a recipe to the letter. Always use your senses.
Once the seasoning is to your liking, wet your hands and start forming the paste into small balls. I prefer them about the size of a ping-pong ball, but it's up you.
Arrange in a single layer in a well oiled, heavy duty oven dish. I find a cast-iron skillet works well. Cook for about 30-40 minutes, turning occasionally until well browned.
You're on your own here
Meanwhile you should be attending to the potatoes and greens. I'm not Delia Smith; you can figure that part out for yourself. However, I believe in skins-on and well salted cooking water when it comes to potatoes.
To make the sauce
When the meatballs are cooked, drain off any juices [AKA, sweet, delicious pork fat] into a saucepan, add a small knob of butter and bring to a happy sizzle. Add the flour and briskly stir in. Slowly start adding the stock. Use a whisk at this point to avoid lumps. When all the stock has been added and the mixture has started to thicken, adjust the seasoning and whisk in the cream. Remove from heat
To serve, portion out the various parts however you like, but allow plenty of sauce and jelly for everyone, but especially for yourself.
Serve with
Floury potatoes- I'm mad on agria, but use whatever floats your boat.
Silverbeet or spinach. I prefer the former in this case as it has an earthier taste better suited to the other flavours.
Lingonberry jelly/sauce on the off-chance you can get it, or cranberry.