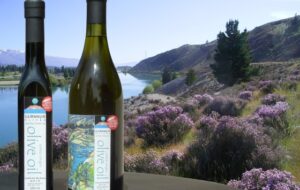 A Tuscan Blend Extra Virgin Olive Oil from Cairnmuir Olives, recipient of the Best in Show Trophy at the 2010 New Zealand Gourmet Oil Competition, sold out before the end of the 2010/2011 season.
Stephen and Anna Clark of Cairnmuir Olives Ltd, based in Central Otago, were not only pleasantly surprised by their win at last year's competition but also from the resulting success of the Tuscan Blend oil which was their first attempt at blending.
"The win created a lot of interest at the local farmers market and the oil proved very popular with market shoppers and chefs and we made good use of our winner's trophy and sash at the markets!" commented Stephen Clark.
Cairnmuir Olives Extra Virgin Olive Oils have consistently won awards since 2004 but had never won a Best in Class or Best in Show. "This win was the pinnacle of our olive oil endeavors to date and a very satisfying reward for the years of hard work that preceded it" added Stephen Clark.
The Clarks initially planned on planting walnuts at their property but made the decision to plant olives which was challenging due to their location. Central Otago, located approximately 45 degrees south, has a short growing season with cold winters and changeable spring weather.
"A Marlborough based consultant had advised early Central Otago growers that they were wasting their time growing olives in the region. The most satisfying part of winning the Award has been proving him wrong" added Stephen Clark.
The New Zealand Gourmet Oil Competition is open to New Zealand produced Olive Oil including classes for Extra Virgin Olive Oil – Delicate, Medium and Intense plus classes for Infused Oil, Walnut Oil, Hazelnut Oil and Avocado Oil. Entrants compete for Gold, Silver and Bronze medals with a Best in Class awarded across each section. The Gold medal oils are then judged to decide Best in Show.
Entries are now open for the 2011 competition. Oils will be judged by a panel of independent food industry experts including leading New Zealand chef Jonny Schwass, Chris Fortune Chairperson of Farmers Markets NZ, Senior CPIT Tutor of Professional Cookery Bill Bryce, Wine Judge Jane Boyle, Trish Coleman of Nor'Wester Café and Nik Mavromatis of Mediterranean Food Company.
Entries close 5pm Thursday 27 October with winners announced on Wednesday 2 November 2011. Winning oils will be on display at the Canterbury A&P Show in the Food & Wine NZ Pavilion.
The 2011 Canterbury A&P Show will be held Wednesday 9 to Friday 11 November at Canterbury Agricultural Park in Christchurch. It is the largest A&P Show in the country attracting over 100,000 people, close to 7000 livestock and feature competition entries and 600 trade exhibitors.
-ENDS-
For further information:
Nicola Cull
Marketing Manager
Tenth Dot Management
Phone 03 365 4203
Mobile 0212 65 1174
Email [email protected]