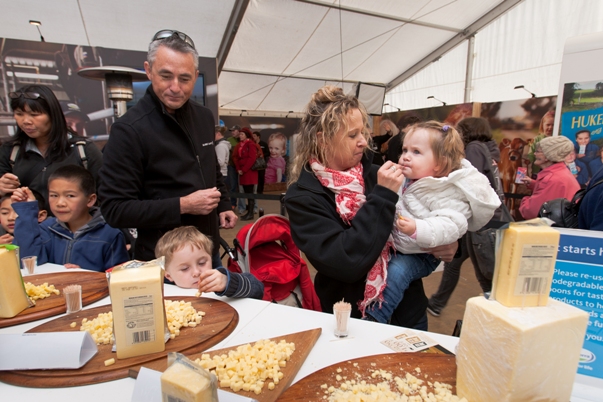 Celebrity Chef, Josh Emett, leads Kiwi's Best Kitchen at Fieldays
Kiwi's Best Kitchen – undoubtedly one of the busiest marquees at Fieldays, is where visitors are tempted to taste and toast New Zealand's favourite and unique food and beverages.
Always appealing to those who love to impress in the kitchen, and handy to those looking for a few trusty tips, this year's Heathcote Appliances Kitchen Theatre, within Kiwi's Best Kitchen, has something special in store for visitors.
Led by Josh Emett, the Kitchen Theatre will be a hive of activity as it showcases top culinary talent from chefs who will be tasked with entertaining and educating Fieldays visitors.
Joining Celebrity Chef Josh Emett, who is performing an impressive three demonstrations a day, other foodie heavyweights; Helen Jackson, Niki Bezzant, and Gerard Perraut are also in the mix, sharing a variety of skills and themes to delight food focused visitors.
Emett, a Michelin star chef, who was brought up on a farm outside Hamilton, will be holding twelve demonstrations in the Kitchen Theatre.
"I'm very excited about doing so many demonstrations over four days at Fieldays. Visitors can expect quite a varied range of dishes – but nothing overly complex. It's about getting tips for what you can do at home with various cuts of meat, such as duck, quail and rabbit.
"All the demos will be interactive, much like MasterChef's MasterClass, where the audience will be able to comment and ask questions as we go along. I'm pretty free and easy. I'm sure we'll all have a good time. It will be entertaining to watch and informative at the same time," says Josh.
Chefs in Kiwi Best Kitchen Theatre:
Niki Bezzant is a healthy cooking expert, and founding editor of the top-selling Healthy Food Guide magazine. A passionate cook with a lifelong interest in health, Niki will be showing just how easy it is to create simple, healthy food that's packed with flavour.
"I'll be at the Kiwi's Best Kitchen cooking classic Healthy Food Guide recipes. True to our philosophy, the recipes will be delicious, super healthy, family friendly and high in nutrients. There will even be a healthy, gluten free sweet treat that I'll share which is great for those with special dietary requirements," Niki says.
Helen Jackson is a fellow foodie who is editor of foodlovers.co.nz, cooks on Good Morning, hosts RadioLive Kitchen and Garden Show and is Food Ambassador for George Weston Foods. An advocate of the 'keep it simple' food mantra, Helen is excited about being at Fieldays for the first time to present her series of cooking demonstrations. She'll be sharing her handy culinary tips including;
winter warmer brunch ideas, tasty toasted sandwich fillings, hearty sandwich creations and a tasty pudding.
"One of my favourite recipes is a Bread and Butter style chocolate pudding using Golden Scone toast, it's a real crowd pleasing luscious winter pudding," Helen says.
Visitors will also be able to visit the Tip Top Bakery stand for a chat with Helen.
Annabelle White will also be featuring in Kiwi's Best Kitchen Marquee. Instead of taking part in a demonstration, she'll be available at the Delonghi / Kenwood stand to mingle with visitors wanting expert tips on how to create fabulous restaurant quality food at home. It's definitely worth a visit as Annabelle is always up for a chat, completely at ease with passing on her enthusiastic and infectious love of all things food-related.
Fieldays visitors can check out the programme on arrival to see when the demonstrations are scheduled. Grab a seat in the grandstand, and be ready to be wowed. Remember to get in early to avoid disappointment.
New Zealand National Agricultural Fieldays will be held 12-15 June 2013 at Mystery Creek Events Centre, 10 minutes south of Hamilton. Fieldays is proudly supported by strategic partners – ANZ and the University of Waikato.
For more information, head to the Fieldays website, fieldays.co.nz