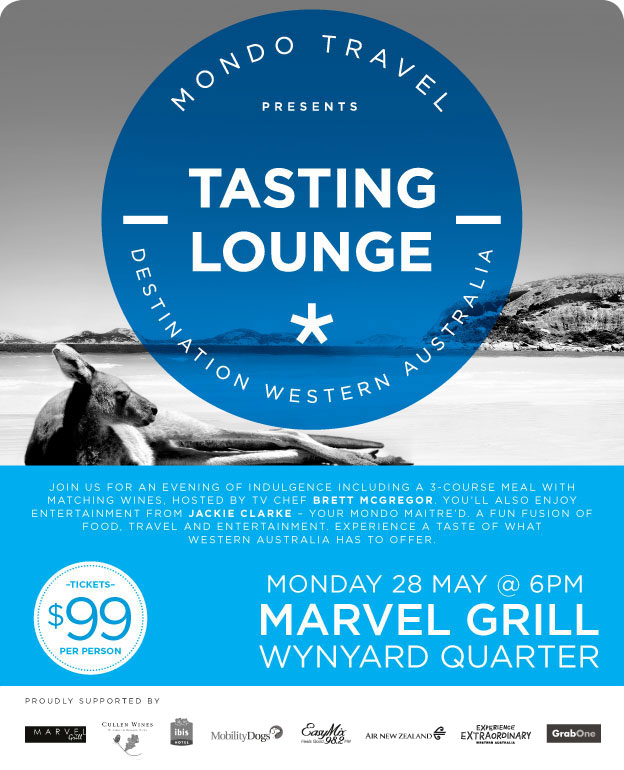 Another world-class Kiwi chef is heading home to bring his flavour to the hugely successful Tasting Lounge pop-up restaurant by Mondo Travel.
New Zealand-born chef Matt Egan will showcase the influences of his adopted home in the Margaret River region of Western Australia – particularly the tastes and flavours of Cullen restaurant where he is head chef – at the fourth Mondo Travel Tasting Lounge, taking place on May 28 (Marvell Grill, Auckland).
Egan will join Cullen winemaker Trevor Kent and Tasting Lounge executive chef Brett McGregor in creating a spectacular three-course meal, with matched wines from Cullen Wines.
Egan, who has been head chef at the Cullen restaurant since 2005, trained at Waikato Polytechnic in 1992 and went on to work in various London restaurants before moving to Western Australia. He is well-known in Margaret River for his use of local produce – including that grown in the winery's large kitchen garden.
He says he is honoured to be bringing a piece of Margaret River home to New Zealand. "Margaret River is like any New Zealand provincial town or city, with great small artisan and local producers.
"It's a privilege to represent Cullen Wines and its commitment to biodynamics and sustainability. Our aim in the restaurant is to search for the best quality expression of our garden and fresh local produce in our food. We take a holistic approach to our menu with a light, healthy and simple style that allows the produce to speak for itself."
Cullen Wines is a certified biodynamic, carbon neutral label and the wines are made on a naturally powered estate where grapes are harvested by hand.  Winemaker Trevor Kent, in his 17th vintage for the winery, says: "Our philosophy is to search for the best quality expression of the vineyard in the wine.
"The maritime climate, rocky soils, dry farming and biodynamic practices all help to create individual and diverse wine styles which are unique to Cullen. We're very much looking forward to sharing some of the Margaret River terroir and personality with New Zealand."
The Tasting Lounge by Mondo Travel has been running since February at the Marvel Grill, in Auckland's newest dining precinct the Wynyard Quarter, on the last Monday of every month. Each month celebrates the best cuisine from a different destination or travel experience with matched wines, and is MC'd by iconic Kiwi entertainer Jackie Clarke.
Previous Tasting Lounges have showcased  New South Wales, Tahiti and Thailand, and Mondo Travel marketing manager Gordon Bayne says the May event is likely to be another triumph. "The food and wines of Margaret River are something truly special. This will be a fantastic opportunity for Kiwis to sample the ultimate in what Western Australia has to offer."
As well as incredible food and wine the Australian state is famed for its stunning scenery, wildlife and world class surf breaks.
Bayne is thrilled to have Tourism Western Australia and Air New Zealand on board as key partners for the Western Australia Tasting Lounge.
Mondo Travel's other key Tasting Lounge partners include Marvel Grill, Easy Mix, NZ Herald Online, MSN, Accor Hotel Group and Grab One.
– ENDS –
Additional information: Tickets for the dinner are $99 per person including the three-course meal by Brett McGregor and Matt Egan with matched Cullen Wines. Funds raised from the pop-up restaurant will go to the Mobility Assistance Dogs Trust, which trains mobility dogs to assist those with physical disabilities. For more information on The Tasting Lounge, menus, and purchasing tickets visit www.mondotravel.co.nz/tastinglounge.
To enter into the draw to win a double pass to the Mondo Tasting Lounge Dinner on May 28th email [email protected]z with Mondo in the subject line.
Competition closes 5pm Saturday May 27th.