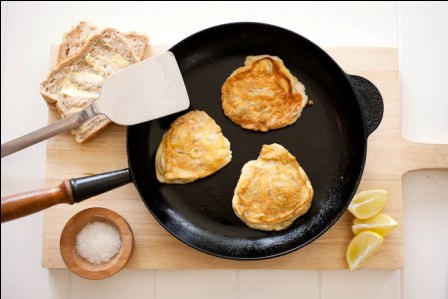 By
Ingredients
4

size 7 eggs, separated

400g

whitebait

1/2 cup

plain flour

salt

butter
Method
Beat egg whites until stiff but not dry.
Toss whitebait in flour seasoned with salt and then mix with egg yolks.
Fold the egg whites into the whitebait mixture.
Heat a frying pan and wipe over with a little butter.
Cook large spoonfuls of mixture until golden on both sides and cooked right through.
Serve whitebait patties warm with a squeeze of lemon - I like mine wrapped in slice of buttered bread!

If you catch your own whitebait then 400g is a perfect serving for 4 people.
If you have to buy it then you may need to adjust quantities to fit your budget.