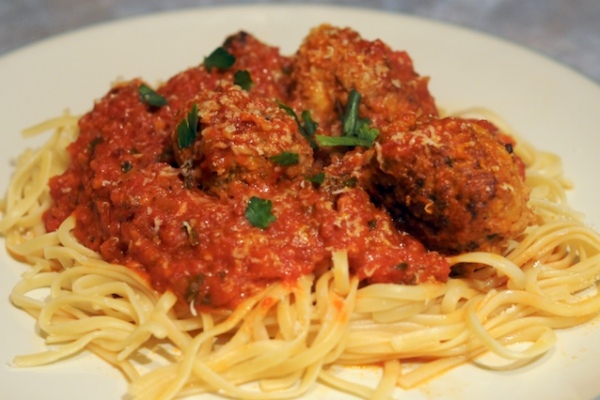 After breaking records all around the world the smash hit musical Jersey Boys, has made its way to Auckland.  It is easy to see why this toe tapping musical has taken the world by storm, from the moment the first chord is struck and the spotlights are on, you are caught in the spell of the extraordinary talent and story of Frankie Valli and the Four Seasons.
We all love rags to riches stories and for these boys growing up in rough and tough New Jersey, it was exactly that.  For many it was a life in a factory or a life of crime and the Four Seasons weren't completely immune.
While Frankie Valli was born with extraordinary musical talent he is also a dab hand in the kitchen and especially when it comes to spaghetti and meatballs.   The below recipe is based on one that his mum made for him with the hot tip being – remember to soak your breadcrumbs in the warm milk!

Franki Valli's Secret Meatballs Recipe
A "whole-lotta" fresh breadcrumbs (about 1½ cups)
About 1 cup milk (warm)
1 lb. ground beef
½ lb. ground pork or veal
½ cup freshly grated parmesan cheese
2 tablespoons chopped fresh flat-leaf parsley
2 teaspoons kosher salt
1 tablespoon oregano
½ teaspoon freshly ground black pepper
About 2 cloves of minced garlic
1 extra-large egg, beaten
Step (1) Remove all jewelry, especially rings – wash hands
Step (2) Soak breadcrumbs in warm milk for a few minutes
Step (3) Add the remaining ingredients and combine with jewelry-free, clean hands
Step (4) Roll mixture into sizeable balls (about 2 inches in diameter)
Step (5) Brown meatballs well in frying pan with olive oil – finish cooking in a simmering pan of Italian gravy (i.e. tomato sauce)
Step (6) Serve meatballs (garnish with parsley, freshly grated parmesan) over pasta with a piece of crusty bread on the side