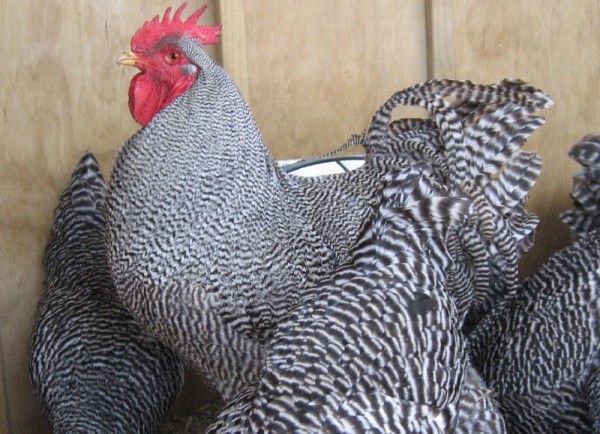 Helen Jackson
For years I have procrastinated about keeping hens but have always pushed it aside with concerns of set up, potential odour and hazards.  However as backyard chooks are becoming increasingly popular I have decided to push aside my fears and head on into it.
Before I start though I thought it best to get advice from someone who really knows what they are talking about.  Fionna Appleton from www.chooks.co.nz has been breeding a variety of birds for some years now and is pretty much a chook expert.  Fionna very obligingly managed to fit in answering questions in between juggling her family and their serious flocks of various birds.
Please do post questions or extra comments in our comments section below.
1. Backyard hens are becoming very popular, is chook keeping straight forward and easy or are there things people should consider first?
Keeping chooks in your backyard should be a pleasure and provide lots of added value like fresh eggs, compost to enrich your garden, good family pets and teach kids about life cycles, responsibility and healthy eating. Choosing the right breed and coop to suit your family's requirements is very important and can make all the difference between them being a pleasure and a chore! Also check with your council as each local council has different rules about keeping poultry.
2. The www is full of chicken coops for sale in various styles and prices – what would you take into consideration before purchasing a hen house?
This is a very good question. The net is full of cheap imports made of imported timber that will not last more than a few seasons here in NZ. Many of these coops are built by people who have never kept chickens so little thought is given to functionality. Many are designed to look pretty and twee especially using the tongue and groove look – which just offers the red mites many more places to hide and makes cleaning your chook house a nightmare. So buyer beware – cheap is not always best!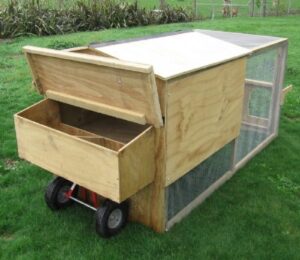 Look at purchasing a hen house/coop that is going to meet all your hens and your requirements. If you don't know what those are talk to the people that do (us!) Here are just some pointers on what to consider:
Housing that is dry and draught free but still has good ventilation. All our chook houses come with solid plywood walls and a floor which keeps the chooks warm and dry.
Housing that is predator proof. A solid floor and a pop-hole that shuts will keep out the unwanted visitors.
Housing that is easy to clean. Think about how you are going to clean your chook house. Make sure it is easy-clean. Our chook houses come with a flat floor to make cleaning quick and easy. We recommend untreated wood shavings be used on the floor.
Housing that is non-mite friendly. Avoid tongue and groove timber, look for smooth, flat wooden surfaces, movable perches and avoid any insulation in walls or roof. All perfect places for mites to hide!
See the mobile coop  from chooks.co.nz
3. For an average sized family how many hens would you recommend? Are chooks bothered about even numbers/odd numbers and are their ideal numbers to keep?
The best way to work out the number of chooks required for your family is to start with the number of eggs needed each week.  Some families do a lot of baking others like to give eggs away so numbers will vary.
For example if your family goes through 2 dozen eggs a week that works out at 3.4 eggs a day. So to meet this requirement the family would need to keep 4 brown shaver hens or 6 heritage breed hens.
So the basic formula we use here at Appletons is to take the number of eggs needed each day and work out number of hens. Hens only lay an egg a day and take the odd day off. The commercial hybrids, like the shavers and hylines, are designed to be egg machines so number of eggs can equal number of hens. With the heritage breeds, which are the more traditional 'natural' chook, where you need to allow for broodiness etc then we recommend adding a couple of extra hens for those doing downtime – so 4 eggs would equate to 6 heritage breed hens.
Chooks are social creatures and do best in the company of other chooks. Keeping less than 3 chooks is my opinion is not ideal. Chooks themselves never learn mathematics so so they don't worry about even and odd numbers as long as they have company!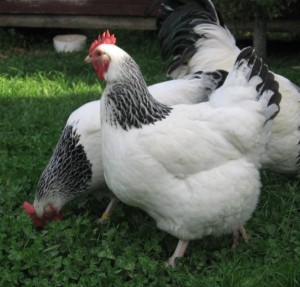 4. What type of chooks would you choose and why? Any that you wouldn't recommend?
A chook is not just any ol' chicken! The choice is huge and selecting the right breed/s to suit your family's needs can make all the difference between enjoying the chook experience or not!
There are two general categories to choose from: the commercial hybrids and the heritage breeds.
The commercial hybrids have been developed, designed and breed by modern man for their awesome laying ability – capable of laying upwards of 340 to 360 eggs to 80 weeks of age if fed, watered and cared for correctly. These are the hens they use in the commercial egg industry for premium egg production. Please remember they have a very productive but short life compared to a heritage breed hen. These girls will come into the lay around 17 to 20 weeks. If you are looking for ordinary brown laying hens that lay lots of eggs these are the ones for your family. They are not big on personality; all look similar and are generally known to be a bit bossy/aggressive within the coop and friendly towardshumans.
So if eggs are your priority and the chicken is not then the brown shaver or hyline is your best choice. To get top productionplease note you will need to replace your flock every 18 to 36 months.
The heritage breeds chickens are rather like "a box of chocolates!" full of different personalities, shapes, feather patterns, temperaments, combs, colours and of course egg sizes and shell colours. Keeping heritage breed chicks adds spice to your backyard, it makes keeping chickens fun!  Each breed has its different quirks and qualities. Generally speaking they are a more natural chicken as man has not tampered with them to turn them into high output machines. Heritage breed chooks lay during the breeding season then take timeout to moult (grow a new set of feathers) and replenish their reserves for the next season. They are more inclined to go broody(this has its advantages if you want to purchase fertile eggs and hatch out your next laying flock) and they will if looked after well have a longer life expectancy. They also take longer to mature coming into lay around 24 to 32 weeks.The heritage breeds are from long established lines of purebred chickens that poultry fanciers have kept going for hundreds of years. There are many different breeds and here at Appletons we breed 11 of them. More info on the breeds can be seen on www.chooks.co.nz.
For the backyard chicken I would recommend the heavy breed heritage breeds like thesussex, plymouth rocks, wyandottes, rhode island reds and barnevelders. These are all lovely dual purpose breeds with good friendly temperaments and good egg laying ability and will make ideal backyard chooks. Some of the lighter breeds are inclined to be more agile and are best kept in enclosed pens. For example the striking hamburghs and campiness are best kept free range or in pens netted over if you don't want them to get out. Most heavy breeds will happy stay behind a 1.8m fence/enclosure.
5. Where would you suggest people look to buy their chooks?
If buying heritage breeds best to purchase from a reputable breeder. The rare breeds website has a directory of poultry breeders in your area.  Brown shavers can be purchased from hatcheries that specialize in commercial birds. Here at Appletons we have both the heritage breed poultry available and the brown shavers.
6. Are there any pitfalls in getting ex battery hens?
Personally we have never kept ex battery hens. Taking on ex battery hens will initially be a huge commitment as the birds will have to adapt to a totally new environment and learn just about everything from scratch again. Does it make economic sense? All depends on what age you purchase them and how much laying life they have left.
7. Is care and maintenance of the chooks quite logical or are there things to look out for?
Yes pretty straight forward! Chooks need to be fed, watered daily, provided with suitable, dry, draught free accommodation and kept in good health. And loved of course…they will love you back because you feed them!
Check regularly for lice
Pick your birds up regularly and check them for lice. Part feathers and look for little crawly insects that are small, brown and fast moving. Lice especially like areas around the vent or under the wings. If the infestation is bad clusters of white lice eggs can be seen at the base of the feathers. Chickens will dust bath to get some relief from lice. A bad lice infestation will affect a bird growth and production. Lice infestations are fairly common as they are passed on by other infected birds and by wild birds like the sparrows. Pestene powder can be used to treat mites. We use a very small off label dose of cydectin to treat internal and external parasites.
Good chook house maintenance
Depending on what system you use it should be done at least one or twice a year. Please wear a dust mask when undertaking this job due to all the fine dander and and dust particles which could carry all sorts of nasty bacteria or fungi. We use a brush, pan, paint scraper and big plastic bin to clean our houses. Remove litter using a scrapper to remove any necessary stubborn bits. Sweep out. Wash down house with water blaster or high pressure hose. Spray house well with Poultry Shield (available from us at Appletons) which is a great sanitizer as well as red mite killer. Leave to dry and replace with clean shavings. If your hen house smells bad and is attracting flies then something is not working for you. A chook house should have no odour and be a sweet smelling home for your chooks.
Red mites can be killers
Red mites are a very common poultry nuisance appearing each season usually in the warmer summer months. They can reproduce rapidly so what was a few under the perch one day can turn into an infestation if not monitored and exterminated.
These mites do not live on the birds but in the chook houses particularly under perches and in nest boxes. They hide during the day and come out at night crawling onto the birds and sucking their blood. A bad infestation can kill a bird through blood loss (anaemia). It is exceptionally hard to get rid of these nasty little crawlies. They can live for up to eight months hidden away in your hen house timbers. There are different treatments available but all involve cleaning out the hen house and giving it a thorough treatment.
We recommend the use of Poultry Shield and Diatom (also available from Appletons) for the treatment of red mites. These are two wonderful new products recently introduced to the NZ market. Poultry Shield is widely recognised as the most powerful non-caustic cleaning product on the market. It dissolves the waxy shell of the mite killing the mite and its eggs too. It is 100% organic. We have been using chemical pesticides for some time now and have now moved over to Poultry Shield and found it to be very effective. Best of all it is organic so a delight to use and a lot more chook friendly than the chemical version. Diatom is a food grade diatomaceous earth for use against red mites, internal (worms) and external parasites (lice, fleas, bedbugs etc) and for general good health of animals. A very useful product which can be used for internally worming all poultry and pigeons and many other farm animals including pigs, dogs and horses.
If you prefer to use an insecticide then Ripcord is good for spraying in the hen house. If using either product it is good to remove all bedding, give the hen house a thorough clean and then spray all surfaces, nooks and crannies, basically soaking the timbers. Repeat after 5 days to break the cycle.
8. If a chook should fall very ill what is the most humane way of "putting it down".
It is best to not let a bird suffer unnecessarily so best to humanely put it down. The easiest and quickest way to kill a bird is to break its neck or chop its head off. If you cannot do it yourself ask someone you know who knows how to do the deed.
9. If you should lose any chooks to illness, is it easy to introduce new hens in?
Pecking order
It is very important when keeping chickens to be aware of the pecking order within the flock. If buying pullets in for the first time best to start with birds all of a similar age and introduce them to the hen house at the same time. Hens have a strict pecking order amongst themselves and each bird has its place within flock from the highest ranking to the lowest ranking. Usually age takes precedent and size is a factor. The lowest in the pecking order will usually be the youngest laying hen. By removing and adding birds this order is upset and causes stress within the hierarchy which can impact on laying. So please be careful adding birds to already existing flocks without thinking through the consequences. It is best to add two to three birds at a time never just one!
10. Anything I have neglected to ask that you see as important?
Broody Hens
Broody hens are unproductive hens when sitting in your laying coop.It does not help just to push your broody hen off the nest in the morning thinking that that will do the job. The broody hen needs to be removed entirely from the nest box in the laying coop and placed in a wire cage with no creature comforts other than food and water. A wire cage with a plywood roof will suffice: a little fresh air from all 4 sides will soon persuade her to snap out of it and think about being social again!
We remove our girls for 7 to 10 days depending on their devotion to the broody state. We do our best to remove them in the first 48 hours and this quick move helps reduce the time they are out of action. Leaving your hen in the nest box broody all day and all night will only result in her coveting any eggs laid by other hens week after week, loosing condition and all the while she will not be producing for you. Please note broody hens do not lay eggs.
APPLETONS HEN HOUSES AND POULTRY SUPPLIES
www.chooks.co.nz
email: [email protected]
phone: 03 542 3224
Check out our egg recipes here on foodlovers.