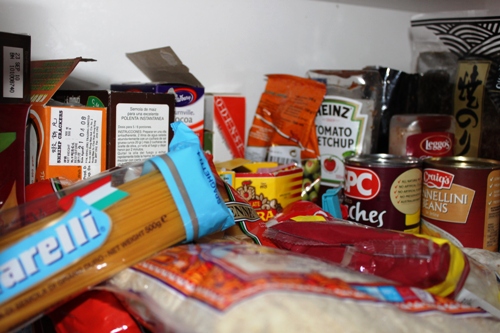 Virgil Evetts
Diana Clement has a genius for frugality. She can spot a bargain at 50 paces, smell a decent garage sale from several streets over, and is a Trade Me trawler of formidable prowess. And so she should be. By day -and quite often night- she writes about personal finance and various consumer issues for the Herald, Consumer and several other publications in New Zealand and abroad. It is literally her job to know about money, spot bargains and cut costs.
Her fascinating and often hilarious adventures in bargain-ferreting can be found at http://www.bargainbetty.co.nz/ . Diana recently invited me, and by association Foodlovers, to help her with a simple but compelling project: to see how long she can feed herself and her two children from her well-stocked pantry, with minimal trips to the supermarket. As she puts it "One of the best ways to cut your grocery bill, at least in the short term is to simply not go shopping". I certainly can't argue with that, not in theory anyway.
It's our shared contention that most people visit the supermarket far too often, and instead of creating meals based on what they have at hand, choose recipes and treat the ingredients as a shopping list. All of us do this to some extent, but it's a long way from an economical approach. Even if you don't go shopping on an empty stomach (a potentially disastrous rooky mistake) and actually stick to your list as dictated by Jamie et al, this day-by-day, piecemeal attitude will still eat a sizeable hole in your wallet. Take it from one who knows.
A more cost-effective and considerably less frustrating approach (assuming you're not some supermarket-loving weirdo), is to maintain a well stocked pantry full of versatile, basic ingredients.  Not only is this a thriftier way of operating, it's makes you a better cook. Anything that encourages an abandonment of recipe books and their inevitable rules and regulations can only improve ones craft.
Diana's experiment in pantry-cooking is interesting, not just in terms of the basic economics involved, but also because it represents a reaction against how we cook and eat in the western world. Unlike the vast majority of our species, we of the affluent few do not eat whatever we have but whatever we want, or even more alarmingly whatever some lauded food writer commands. Somewhat conversely, certain well-intentioned food media phenoms and their espousing of 'free-style' cooking – as derived from rigid recipes- are really just creating another generation of cooks with a rote-learned, cook-by-numbers ethos. Pukka indeed.
The Experiment
Last week I did a full inventory of Diana's pantry, which I have provided below. Our job at Foodlovers is very simple: at the bottom of this article post either original recipes or links to recommended Foodlovers recipes which use items from Diana's pantry. Recipes need to be family friendly, as Diana's children Milo (7) and Maya (9) are still fairly conservative eaters –although by no means fussy.  At the time of writing Diana hasn't embarked upon a major supermarket expedition (fresh fruit, vegetable and milk top-ups notwithstanding) for 3 weeks, and is showing no signs of malnutrition just yet. I have every confidence that we can help her to hold out quite a bit longer, and who knows, we might just learn a thing or two along the way.
Diana's Pantry
Note: In the interests of encouraging creativity I have deliberately omitted quantities. Just assume she has enough…
Onions
Garlic
Eggs
Flour, baking powder, semolina, oats, etc
Cocoa, vanilla essence
Salt, pepper etc
Pinenuts, pistachios, sesame seeds, walnuts, raisins
Vita wheats, girl guide biscuits
Reduced Cream, coconut-flavoured reduced cream
Nori
Basic spices: Cinnamon, cumin, nutmeg, etc
Dried spaghetti
Instant noodles
Basmati rice, sushi rice
Mariumiya Japanese seasoning
Weetbix, Cornflakes, rice bubbles
Muesli bars
Potato chips
Soy Sauce, Worcester sauce, tomato sauce
Sesame oil, rice bran oil, olive oil
Balsamic vinegar
Milo
Peanut butter
Dhal
Instant soups – laksa, pumpkin and potato, tomato
Tomato paste
Stock powder
Tinned tuna, pink salmon
Anchovies
Canned fruit –peaches, fruit salad etc
Canned tomatoes
Frozen wedges, fishfingers, corn, asparagus, various frozen herbs
Canned pineapple
Beef schnitzel, lamb chips, frankfurters, kransky ,chorizo,  chicken burgers, prawns, lamb loin chops, beef mince, pork medallions, minute steaks, bacon
Pita bread, white and wholemeal sandwich breads.
Paneer
Pesto
Lemon juice
Cheese, butter, milk
Various fresh fruit and vegetables (replenished weekly)
Post your recipes, links and suggestions below and stay tuned for Diana's updates…