Autumn Eating –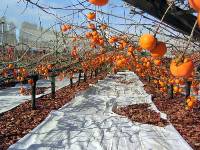 Cooking with Persimmon
Michal Haines
 First Cultivated way back in the eighth century by the Japanese, the persimmon had long been an autumnal delight in China.
Resembling a glowing lantern, the leaves of the persimmon mimics its fruit by changing in colour, as the cold progresses, to a golden orange. It is a shame that this rather unique fruit is not more commonly enjoyed and as eagerly anticipated as other autumn fruits.
With delicate overtones of honey and apricot, the persimmon can be slow to ripen, taking anywhere from five days to two weeks to reach the point where the astringent tannins have turned into sweet sugars.
The two most common varieties that we see are the fugu and the haciya.
The haciya is an older variety and easily identifiable due to its acorn shape. Eaten only when totally ripe it has a soft, almost jelly like texture. The fugu has a flatter base and is more commonly seen, likely because it stores better and can be eaten when it is still firm. The less astringent flavour and crunchy texture makes it great for serving fresh in salads over the early autumn period.
Look for fruits that are bright in colour, firm (as you can ripen them easily at home) and without markings that may indicate damage. It is more likely that any persimmons that you see will be the firmer fugu variety so buy them when they still have some ripening to do so you have the choice of when to eat them.
New Zealand is a rather large exporter of persimmon straight back to the places they originally came from, with a mere 2500 tonnes moving off shore in 2002. They do fall about sixth on the list of international persimmon growers.
Gisborne is our biggest grower followed closely by North and South Auckland, Northland, Hawkes Bay and Bay of Plenty.
The Persimmon Industry Council has much to say on the value of persimmons as they are high in vitamin C, iron and calcium and they also recommend that unlike many other fruits, your best storage is at room temperature rather than chilled.
The Koreans, Chinese, Japanese and Vietnamese all dry the persimmon to create rather delicious leather and it is enjoyed simply as a sweet or used in other cooking applications. The Koreans take it one step further and make an alcohol infused with the flavour of dried persimmon and a vinegar enjoyed for its health benefits.
The leaves of the tree are used in Korea and some areas of Manchuria for tea.
 Persimmon works very well with citrus and should not be overlooked as a fantastic autumn fruit that can be combined with all sorts of cold day delights from desserts, fruit pastes, drinks, purees, sauces to sorbets and ice creams.
The following are a few recipes that I have played with over the years that put persimmon at the forefront of autumn fruits.
Cooking with Persimmon
Everyone has quince paste with their blue cheese-why not persimmon paste instead. Works very well with goat's and sheep's milk cheeses.
Persimmon Paste
Slice a kilo of persimmons into quarters and place in a heavy based saucepan.
Add the zest and juice of 1 large lemon and add ½ cup of water.
Bring to the boil and reduce the heat and allow to simmer for 20 -25 minutes or until the persimmons are soft.
Remove from the heat and puree in a food processor to a smooth paste.
Return the puree in the saucepan and add the sugar, stirring over a medium heat until the sugar dissolves.
Continue to cook over a low heat, stirring regularly (try a long handled wooden spoon as the mix can spit) until the puree thickens and comes away from the base of the pan.
 Pour into a shallow tray lined with non stick paper and spread to a thickness of about 12mm.
Allow to cool.
You can leave it dry out over a period of a few days but it will remain a little stickier than quince paste.
Store between layers of non stick paper in an airtight container.
 Autumn Salad
Fresh new season walnuts combined with roasted root vegetables and roasted slices of persimmon.
Peel and slice 6 persimmons into eighths.
Place in an oven tray with a drizzle of sherry vinegar, a sprinkle of brown sugar and a little oil.
Bake for 10-15 minutes or just as the sugars are caramelizing.
Serve mixed through the roasted root vegetables with roasted walnuts and a good helping of salad leaves.
Dress with walnut or hazelnut oil and a little more sherry vinegar.
 Roasted duck and pork are fantastic with persimmon.
Try roasting persimmons as for the autumn salad and serving alongside the meats. A traditional apple sauce can be spiked with persimmon puree for a richer, brighter flavour or serve a persimmon aioli with roasted pork and duck.
Persimmon Aioli
Whisk 2 free range egg yolks in a bowl or mortar and pestle with a pinch of salt
Whisk in 2 teaspoons persimmon paste or 1 roasted persimmon, well pureed and the juice of half a lime.
Slowly pour in a very thin stream ½ cup of olive or grapeseed oil, whisking all the time.
Taste and adjust seasoning as needed.
Chill till needed
 Cured meats, with their salty taste and leathery texture, are a wonderfully different accompaniment to persimmon. One of my favourites is an easy and really tasty finger food.
Persimmon Salsa
Peel and very finely chopped 2 persimmons, 1 shallot and 1 pear
Toast and very finely chop 2 tablespoons hazelnuts
1 teaspoon toasted and freshly ground coriander seed 
Add the juice of 1 lemon
Season with pepper and salt and mix through a little olive oil to lubricate.
Mix well and allow to sit for up to 1 hour for the flavours to infuse
Lay out very finely sliced pieces of smoked pork, venison or beef and top with the persimmon salsa.
Serve with a dry sherry.
 Persimmon Pesto
The salsa can also be all thrown into a food processor and pulsed to create a texture more like a pesto. Add around about ½ cup of toasted hazelnuts, walnuts or chestnuts to achieve a rougher mix ideal for spreading onto rye bread to accompany cured meats.
 Autumn Fruit Salad
The abundance of incredible fruits over autumn means fruit salad is mandatory.
Think fresh feijoa, freshly sliced persimmon, fresh guava and poached quince and apple combined together in a little poaching syrup and drizzled with good quality honey.
 Apple and Persimmon Tart
Use any autumn fruit for this very quick cheats dessert that can be done ahead of time and then reheated as needed.
3 persimmons cut into eighths
3 new season apples cut into eighths
Place the fruit in a saucepan and add ¼ water and ¼ cup sugar.
Mix well and place on the heat and cook on a medium heat for 15 minutes
Remove from the heat and allow to cool, pouring off all excess liquid
Preheat oven to 200 C.
Grease an oven tray and lay out a single piece of pre rolled puff pastry.
Sprinkle over 2 teaspoons ground almonds
Top ground almond with a layer of apples and persimmon
Sprinkle over another 2 teaspoons of ground almonds
Take a second sheet of puff pastry sheet and cut into 2 cm wide strips.
Place the strips artfully over the fruit and seal the edges down using your fingers.
Brush over with milk and bake for 20-25 minutes till golden brown.
Serve with vanilla ice cream or whipped cream
Persimmon Image taken from http://www.teara.govt.nz
Check out persimmons on what's for lunch honey blog