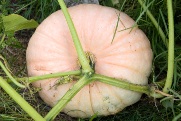 a>Autumn Eating
Pumpkin and Squash
Magical jack-o-lanterns, coaches for princesses to be and perches for goblins-the pumpkin is much like the mushroom in the way that they have a fairy tale air about them.
These New World natives must have been quite a thrill to come across.
A thick skinned giant sitting about in the field long after their leaves have wilted, the pumpkin enjoys the autumn sunshine but not the winter's cold.
 Truly incorporated into the world's cuisines, pumpkin just became a normal part of what was happening in the kitchen. It is almost as if everyone decided that pumpkin needed no introduction to their cuisines-no need for the creation of new dishes-just a straight incorporation as if it had been there all along.
Soups and stews glowed with the golden flesh of pumpkin, dumplings halved revealed the saffron colouring, and many delighted in the addition of cream and garlic to this autumn vegetable-roasting it whole filled with cream to create a giant bowl of wonderful mush.
Back in its homeland it was coupled with sweet corn, haricot beans and chilli and generally roasted or boiled.
Obviously everyone was just happy to enjoy the easy going nature of pumpkin. Tasty but not over powering, a great addition to just about anything and the colour that adds something special at the table.
For most people a pumpkin is a pumpkin and squash is just an odd name. We don't generally see much signage about stores on different varieties, shapes and colours which is a shame in my mind. Like all things, variety is the spice of life and different pumpkins and squash certainly have different traits.
As great breeders, pumpkins have been generous in providing us with a great deal of cross breeds. Weird shapes, sizes and colours make them a dazzling display but can be more confusing than just the standard grey crown pumpkin for people. The good thing with pumpkins is that they are all interchangeable so don't be too worried.
For basic rule of thumb, the softer skinned tender flesh varieties such as acorn, onion and spaghetti squash are best for soups, boiling and sauces heavy with cream.
Harder skinned varieties such as crown, pumpkin and butternut make the best pie fillings, great stuffing for pasta sheets and roast perfectly to a caramel gloop. These are also the ones that are great keepers and many a housewife's manual will tell you that squash stored in the winter shed with the stalk still attached will keep well till spring.
Said to be high in fibre with plenty of minerals and vitamins and having as much beta-carotene as carrots, they are good for you too.
Certain varieties are said to reduce heart disease, premature aging and cancer.
Growing them is easy and by being a little clever with limited space, such as over roofs and up walls, makes them ideal for city gardens .
Pumpkin and Squash enjoy the company of spices, garlic, and herbs, eggs, dairy and nuts.
They can go into the world of pasta, through rice, soups, do the Thai thing, the Italian thing, even the Turks love it candied and served with rose water.
It is a versatile gourd that shouldn't be overlooked as a great addition to the vegetable store.
Pumpkin and Quinoa Cakes
Mixing the best of the New World with the spices of the Silk Road, this is an easy and yummy vegetarian recipe that can be served as finger food with a dipping sauce, as a falafel in pita bread or served up with an autumnal vegetable salad.
200g quinoa, cooked and rinsed well and left to drain
1 small pumpkin or half a large pumpkin such as crown or kobocha, peeled and roasted till very soft
3 cloves garlic
2 teaspoons freshly ground garam masala
1 teaspoon black mustard seeds
2 teaspoon freshly ground coriander
Salt and pepper
1 handful fresh coriander leaves, chopped
Juice of 1 lemon
In a large bowl mix all the ingredients together .Use your fingers or a fork to squeeze the pumpkin into a mash .I like to leave some lumps for interesting texture.
Preheat oven to 200 C.
Make balls of the mixture and pat down flat to about 2.5 cm diameter.
Place them on a well greased oven tray and place them in the oven for up to 40 minutes.
You will need to turn them at least once to get both sides brown and crisp.
I turn them after around 15 minutes and then keep turning if they need it to get both sides the same.
Serve with a yoghurt dip of plain unsweetened yoghurt mixed with 2 teaspoons of pomegranate molasses (available at good food stores), more fresh coriander and a little sumac or lemon juice.