Helen Jackson and Lance the Butcher from Victoria Ave Meats shows us how easy it is to bone a chicken.  Did we say easy?  Once you know how, yes it is!
Lance brings along size 18 chickens.
It's important to have a thin knife when boning chickens. It will make the job so much easier.
Place the chicken breast side up. Cut off the tail of the chicken.  Remove the inner fat of the chicken with your hands, which easily comes out.
Make a small incision on one side of the backbone.  Turn the chicken around and cut down the backbone where you have already made the first incision. Open the chicken up.
Make a small incision in the breast bone.  Using your thumbs, peel the chicken open and pull out the breast bone.  You now have a butterfly chicken.
Remove the rib cage and any of fat.
Make an incision around the leg bone and repeat on the other side. Remove the cartilage and any left over fat.
Helen recommends using a chopping board just for chicken.
[homepageimage]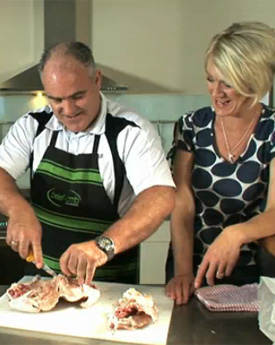 [/homepageimage]
[smallimage]

[/smallimage]