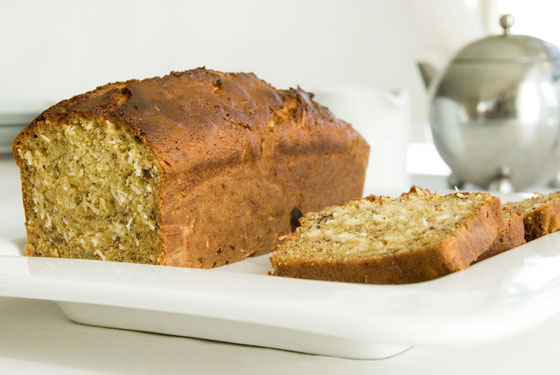 This loaf is a favourite in our house.
Ingredients
2 eggs
1 cup sugar
100 g butter, melted
3/4 cup natural yoghurt
1 teaspoon baking soda
1 1/2 cups flour, sifted
2 over ripe bananas, mashed
1 cup coconut thread
Method
Preheat the oven to 180 C.
Line a 24 cm loaf pan with baking paper.
Place the eggs, sugar and butter in a mixing bowl and beat with an electric mixer until thick and creamy.
Combine the yoghurt and baking soda and fold into the creamy mixture alternately with the flour, mashed banana and coconut.
Pour the mixture into the loaf pan and bake for 1 hour or until loaf tests cooked.