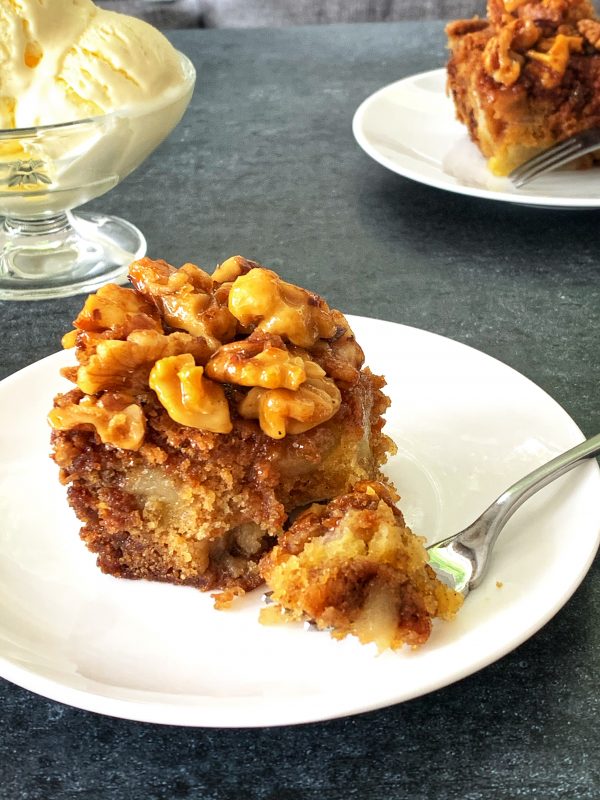 You can mix the fruit in this lovely dessert cake to include apple, poached quince, feijoa etc…  The rhubarb for another tart fruit is good for giving balance to the sweet cake.
Thank you to Jocelyn Wright from Otakaieke School House (Waitaki Valley) for sharing this recipe.  I have made a couple of small modifications but just tweaks; reduced the sugar in the cake, increased topping quantities and took out walnuts in the cake but added more onto the top.  I also added some ginger into the cake.
If you are wondering about sugar quantity then remember the cake does make 12 portions.
Serve it as dessert or afternoon tea with cream, yoghurt or ice cream.
Ingredients
250g

butter

1 3/4 cups (350g/12.30oz)

sugar

2 size 7 (large) eggs, whisked

3 (approx 550g/1.21 1b)

firm green pears, peeled, cored and thinly sliced

4 slender stalks of red rhubarb, finely sliced

2 ½ cups (383g/13.51 oz)

plain flour

1 teaspoon

baking powder

2 teaspoons

baking soda

2 teaspoons

ground ginger

1 teaspoon

cinnamon

for the topping

1/3 cup (60g/2.11 oz)

brown sugar

60g

butter

juice and grated zest of 1 large lemon

1 cup (125g/4.13oz)

roughly chopped walnuts
Method
Preheat the oven to 150 C (300 F).
Melt the butter in large saucepan, remove from the  heat and add the sugar, pear and rhubarb and then the  eggs.
Sift over the combined dry ingredients and gently mix, the batter will be stiff. Spoon into a lined 23cm square tin or 26cm round tin.
Cook for 1 hour or until a skewer comes out clean.
Melt the butter in a small saucepan and stir in the brown sugar, lemon zest and juice. Mix in the walnuts and allow to bubble for a minute or two.  Spoon the caramel walnuts over the cake and return to the oven for 5-10 minutes until the topping is brown and gooey but take care not to burn.
Serve warm or cold with a good dollop of yoghurt, cream or a scoop of ice cream.