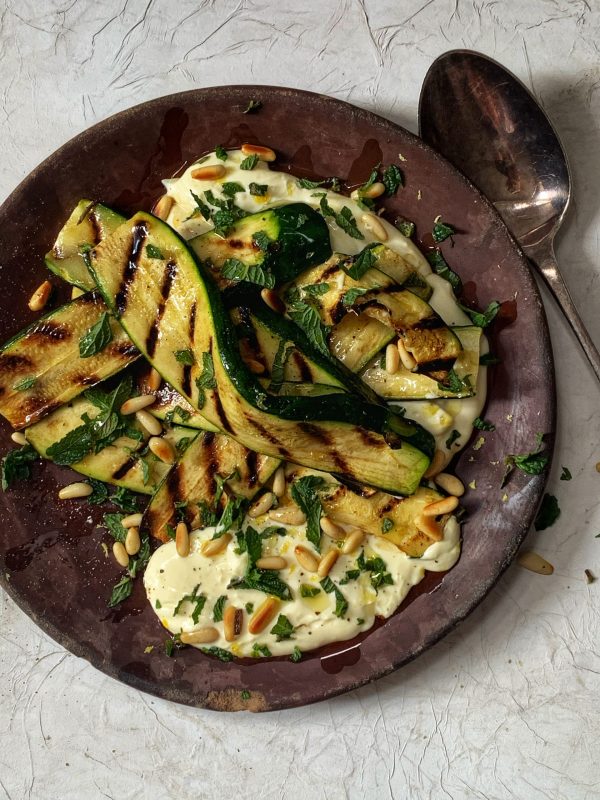 Whipped feta is great with most vegetables and is also delicious alongside roasted lamb or chicken.  It is easy to make and perfect for a shared plate meal.
The whipped feta is more than you need to accompany the zucchini.  Put the rest in an airtight container in the fridge and use on crackers, in sandwiches and "on the side" for other meals.
Ingredients
4 medium sized

zucchini (courgettes)

2 tablespoons

pine nuts

200g

feta

120g

sour cream

1 clove

garlic

1 teaspoon

grated lemon zest

2 tablespoons

cold water

2 tablespoons

extra virgin olive oil

small handful

mint leaves, roughly chopped

freshly ground black pepper
Method
Top and tail the zucchini.  Cut lengthways into 3-4 strips.
Brush with a little oil and then cook on a griddle pan or bbq until tender and well coloured.
At the same time toast the pine nuts in a small pan over a low heat until just coloured.
Place the feta, sour cream, garlic, lemon zest and water in the bowl of a food processor and blitz until smooth.  Add 1 tablespoon of the oil and mix just to combine.
Spoon a few large spoonfuls of the whipped feta onto a serving plate, top with zucchini strips, drizzle over remaining oil and garnish with mint leaves, pine nuts and a sprinkle of black pepper.
Serve as part of a shared meal.