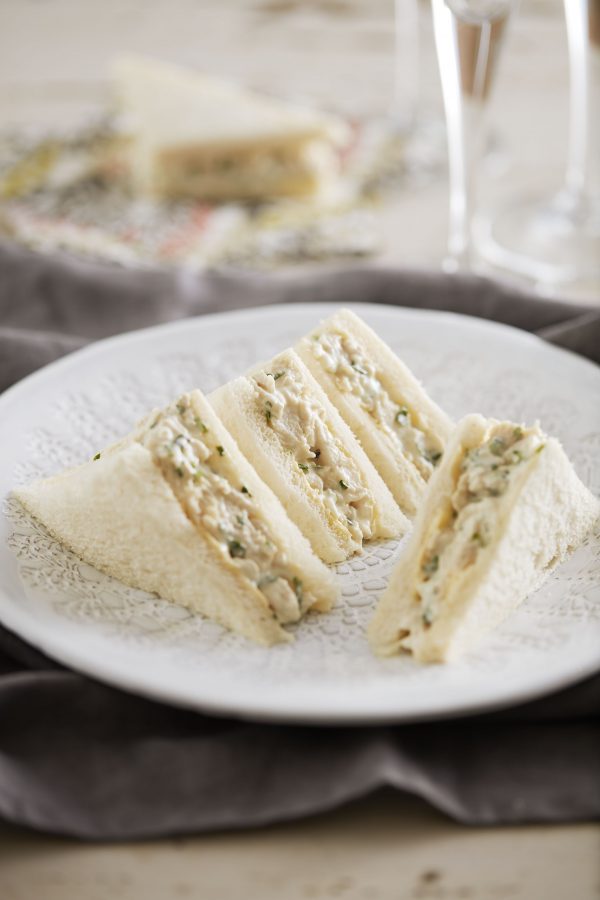 New Zealanders have long had a love affair with party style chicken sandwiches and I am almost thinking that we can call them our own.  By using the term "party style" I am meaning the type of elegant chicken sandwich that is produced at cocktail parties as opposed to the one that is packed into a lunch box.
The bread – sandwich sliced bread is, I think, unanimous.  The choice then lies between white, wheatmeal and multigrain with white coming out as a top choice.  Freshness is most important, with two friends saying that they will only buy bread on the day required and always from the bottom shelf in the supermarket bread aisle, as that is where the freshest bread is.  They check the expiry date.
The butter – most would agree that chicken sandwiches benefit from a thin spread of butter, this seals in the filling and prevents the bread from absorbing moisture and becoming soggy.
The chicken – probably the best chicken sandwiches are made from a roasted/rotisserie chicken where the crisp skin is chopped into the mixture.
Lauraine Jacobs, suggests roasting the chicken with "a very tasty herby stuffing", this is chopped into filling as well.
Some others also suggest using the stuffing, whether it is homemade or from a store bought rotisserie chicken.
Mayonnaise – every chicken sandwich recipe I've seen includes mayonnaise, vital for moisture and also for flavour.  Best Foods Mayonnaise is a name that is repeated over and over again (which is why we invited them to sponsor this feature).
Recipes tend to use around 2/3 cup mayonnaise to 1 chicken.
Crunch – there is an expectation of some sort of crunch in a chicken sandwich with suggestions including celery, red onion, walnuts, pistachios, cashew nuts, pine nuts etc… (we did have one comment that pine nuts can go soft between sandwiches being made and then served).
What else – Other ingredients include; dried cranberries, rocket, mango chutney, tarragon, basil, parsley, basil, coriander, mint, chives.  All give flavour and the cranberries provide colour.
An electric knife is pretty much mandatory, nearly all party sandwiches are served crusts removed and to do this in any quantity without squashing the bread you will need an electric knife.  Failing this then use a very sharp serrated bread knife.
Damp paper towels are essential for keeping sandwiches fresh and soft.
PROPORTIONS

1 chicken = 2/3 cup mayonnaise = 1 3/4 loaves bread 
2 chickens = 1 3/4 cups mayonnaise = 3 1/2 loaves bread
These are approximates and based on buying a rotisserie chicken or size 14 chicken

THE FLAVOUR VARIATIONS
Di Eady's reputation for amazing chicken sandwiches will be sure to live on through generations.  Her daughter Jo, shares these tips from Di;
Always used a roasted chook (chopped not shredded).
Mix with parsley, spring onion, chopped celery and salt.
Bind with Best foods mayonnaise and a sprinkle of the Masterfood's steak pepper.
It is essential to have fresh bread bought on the day and an electric knife.
For a change Di would sometimes add the stuffing from cooked chook or add lemon zest and a little mint. Bread must be buttered. She liked to make the filling quite generous and cut them into triangles.
Di's tip: Don't be mean on the mayo!
Christine Horton and Di Eady were great friends and both famous for their chicken sandwiches.
Christine says;
Roasted chicken (cook in an oven bag) shredded
finely chopped celery
Best foods mayonnaise
Salt ( plenty ) pepper
finely chopped parsley
toasted pine nuts
Finely chopped spring onion
Electric knife essential!
Coronation chicken sandwiches are popular and vary from many of the usual chicken sandwich recipes.  Juliana Hilson's chicken sandwiches are famous amongst her Christchurch friends.  The recipe is similar to Coronation chicken but with the absence of curry powder.  She adds mango chutney and also some chopped cashew nuts for crunch.
Juliana's chicken sandwiches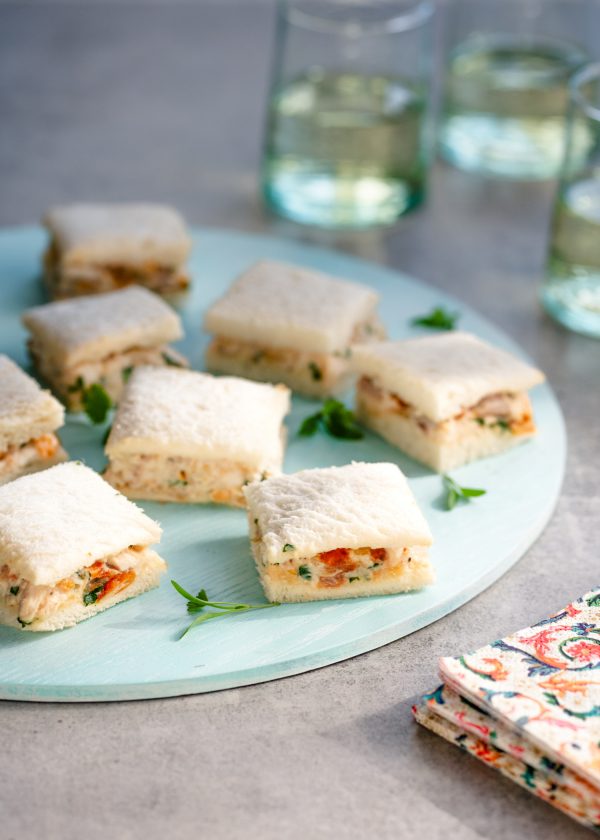 Jayne Morton is also known for her sandwiches to which she says;
I either poach chicken breasts or get a cooked chook.
I chop or break up all chicken and add:
Best foods mayo
Squeeze of lemon juice
Roasted pine nuts
Spring onion/ parsley/ chives/ mint ( whatever is around!)
Finely diced celery
Finely sliced iceberg lettuce
Cucumber ( if I have any!!)
salt and pepper
Penny Blundell's chicken sandwiches are famous in Hawkes Bay where she is always asked to bring them to parties (even though she is renowned for being a great cook).
Penny says:
For a crowd l cook
1 chicken in a broth with herbs and spices.
Shred the chicken and add a bit of the broth.
Mix with Best foods mayonnaise (about 3/4 cup) and some cream (2-3 tablespoons)
curry powder
diced celery
coriander and or parsley
Spring onions
salt and freshly ground pepper.
Spicy chutney and sometimes a bit of chilli flakes for a bit of bite
Penny's tip: Make the filling the day before you need it and then add more cream or mayo if too dry on the day.
Leanne Hegan's chicken sandwiches get rave reviews.
She says she doesn't pay too much attention to being specific with ingredient quantity and essentially it is;
2 rotisserie chicken, finely chopped
3 1/2 loaves sandwich sliced bread
1 3/4 cups Best foods mayonnaise (work out amount by looking at moisture content of filling).
1 red onion, finely chopped (not too big)
1-2 stalks celery, finely chopped
small handful parsley, chopped
small bunch chives, finely chopped
1/3 cup pine nuts, lightly toasted
salt and freshly ground black pepper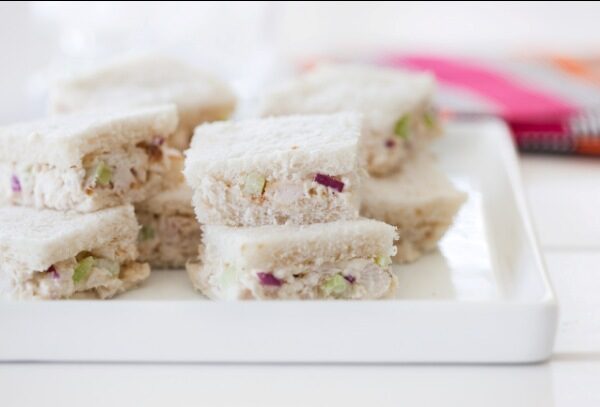 Auckland Girls' School St Cuthberts have a recipe in their cookbook that is named
"Best Chicken Sandwiches in the World.
These chicken sandwiches vary from those already mentioned else, using;
1 smoked chicken breast
1 can of reduced cream
1 tub of sour cream
1 packet of Maggi onion soup mix.
They also have a handful of mixed fresh herbs (parsley, dill, chives, chervil, coriander) and a good bunch of rocket leaves.
This makes enough for 1 loaf of sandwich bread.
One of my favourite fillings is
Chicken Pistachio and Avocado Sandwiches
with the pistachios offering crunch and the creaminess of the avocado making the sandwiches even more luscious.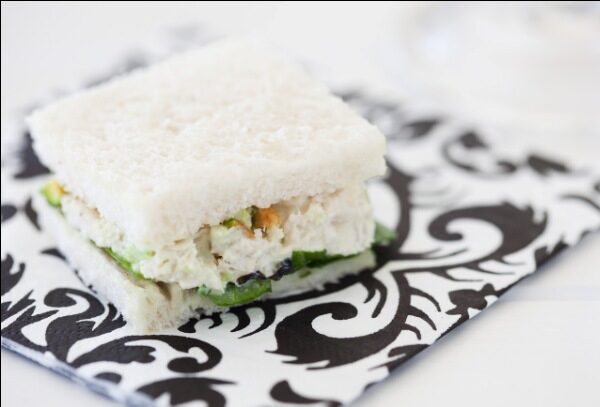 Do you or someone you know make really good chicken sandwiches and if so what are your filling tips?