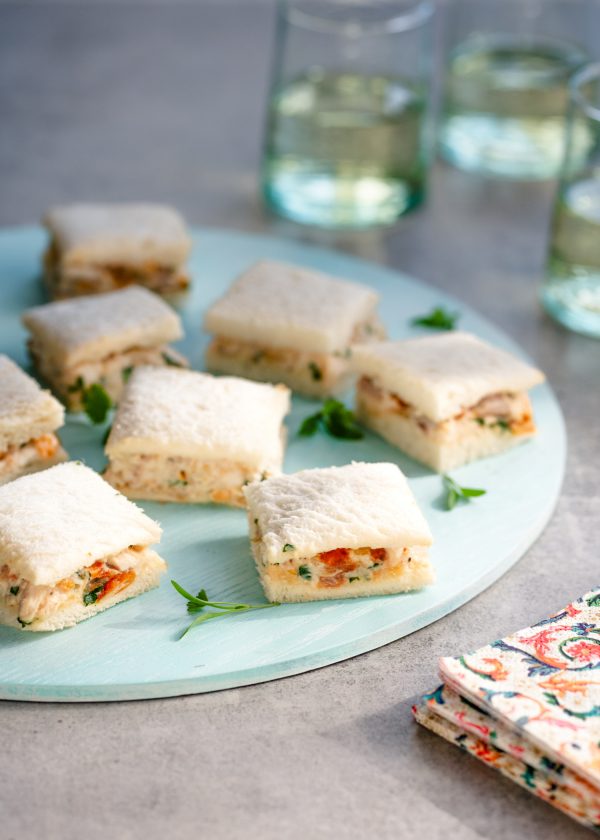 These chicken sandwiches have colour, crunch and great flavour.
Whenever Juliana makes them she is asked for the recipe.
Yield:
Makes approximately 68 pieces
Ingredients
1

rotisserie chicken, flesh and skin finely chopped

2/3 cup

Best Foods mayonnaise

3

spring onions, finely sliced

1 handful mixed coriander and parsley, finely chopped

2 tablespoons

mango chutney

1/2 cup

roasted cashew nuts, roughly chopped

salt and freshly ground black pepper

1 1/2 - 1 3/4 loaves sandwich sliced bread (approximate as depends how thick you want the filling to be)

butter, softened
Method
Combine the chicken, mayonnaise, cashew nuts, spring onion and herbs in a bowl.
Mix thoroughly and then lightly mix through the mango chutney.  Taste and season with salt and pepper as needed.
Spread each slice of bread lightly with butter (this is optional but it is good at stopping sandwiches from going soggy).
Spread a layer of chicken across half of the bread slices and cover with the remaining slices.
Wrap in damp paper towels until needed.
To serve, cut off crusts and then cut into square or triangle quarters.
*the filling can be made the day before and refrigerated until needed.