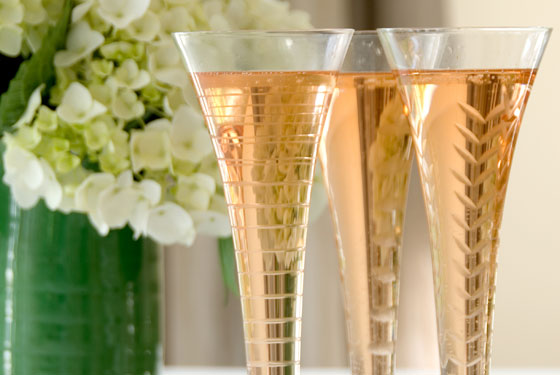 Party season is almost here and be it 15 or 50, chances are you will need to host drinks for friends and families some time over the next few months.
With that in mind we have grouped some of our favourite finger food recipes here in one place with tips on what to buy and what to make.
While not the star of the canapé world, people do like a good sandwich and they are well worth adding into your menu.
Some favourites of ours include;
chicken and celery
 chicken, pistachio and avocado
smoked salmon, cream cheese and lemon
smoked salmon, cucumber and dill
While smoked salmon is the classic topping for a blini with a dollop of caviar or creme fraiche and dill, they can have plenty of other toppings as well.
Prawn, Asparagus and Dill is a perfect topping for this time of year as is;
* Pesto with prosciutto, parmesan cheese, cherry tomato and basil
* Chicken coated in hoisin sauce and topped with slivers of spring onion.
What are you favourite toppings for blinis?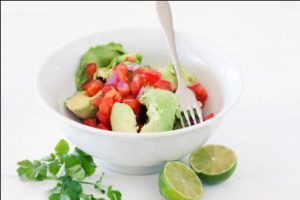 As well as platters of canapés to hand around, it is also worth having some nibbles strategically placed around your room.  Bowls of homemade spicy nut mixes and dips such as guacomole or hummus are popular and ideal to leave for people to help themselves to.
A cheeseboard with a couple of large wedges of cheese can look spectacular, pile sliced baguette or gourmet crackers alongside with some walnuts and perhaps a chunk of quince paste.
Oat biscuits, blue cheese and quince paste is a favourite combination and can be presented as an easy canapé.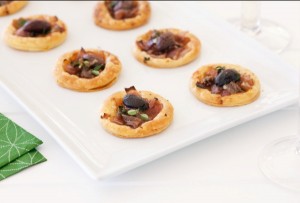 Puff pastry makes a great base for a variety of toppings – if you cut the pastry into squares then you won't have any waste.
Suggested toppings include:
*caramelised onion, goats' cheese and chopped rosemary
*pesto, prosciutto or ham and cherry tomato
*caramelised onion, blue cheese and rosemary
*caramelised onion, olive, thyme and anchovy


While toasted bread – crostini, also makes a good base for toppings, just be careful they are not so brittle so as to snap in half at a bite. Mini poppadoms can be found at Indian spice shops and sometimes in supermarkets and are ideal as a base for toppings such as this one for hoisin pork, coriander and sprouts.
Wontons also make a great base for toppings such as this one with prawns, lime and chili.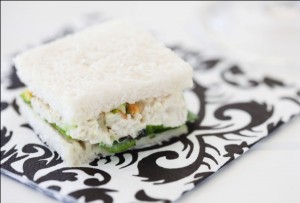 * Sandwiches are quick to make and while not the most glamourous of offerings, they are popular and they do fill a gap.
Some suggested fillings are:
chicken and celery
 chicken, pistachio and avocado
smoked salmon, cream cheese and lemon
smoked salmon, cucumber and dill
Balls such as meatballs are great as they can generally be cooked ahead of time and reheated in the oven prior to serving.
I really like these chicken, ginger and coriander balls but you can make regular beef meatballs with beef mince, breadcrumbs, finely chopped onion, fresh chopped herbs and an egg to bind.
These prawn and coconut balls are absolutely gorgeous and a real party hit.
Prawns are often a party highlight,  these coconut prawns with mango and chilli salsa.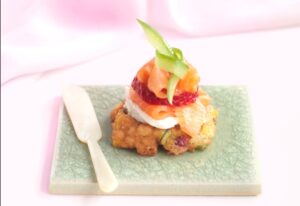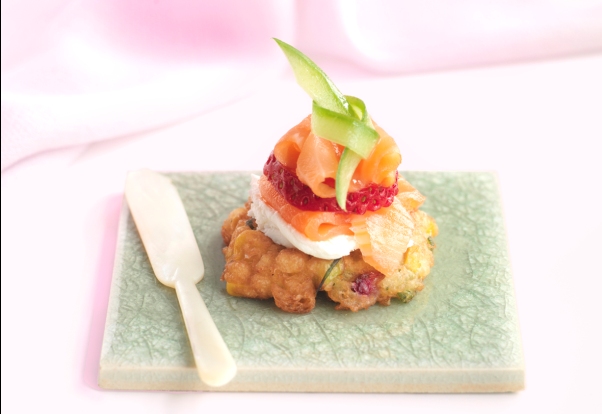 Smoked salmon is an obvious choice for finger food, it is luxurious and is able to be used in varied ways.  Aside from the obvious smoked salmon blinis check out these Indonesian style fish cakes and corn fritters with goats cheese, smoked salmon and strawberries.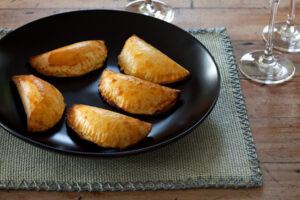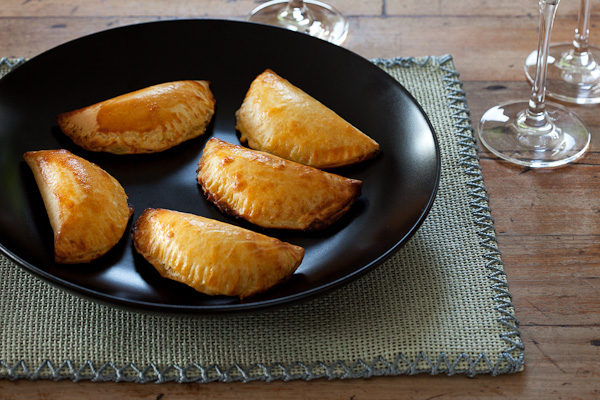 We all love party pies, these can be made well ahead of time and frozen or just made a couple of days in advance.
Any of your favourite pie fillings can be used for mini pies, we happen to really like these little pies of Beef with kumara topping and chopped macadamia nuts
And for a vegetarian option these little Greek style cheese pies are also delicious.  Quiche and tarts are also great vegetarian hot options with gruyere cheese and leek a timeless popular filling.
Never dismiss sausage rolls as I can almost guarantee they will be eaten, as long as they are homemade and preferably with a homemade tomato sauce or chutney alongside then you are definitely in business.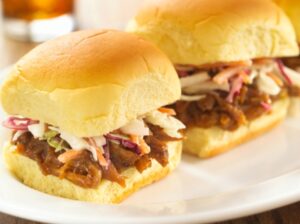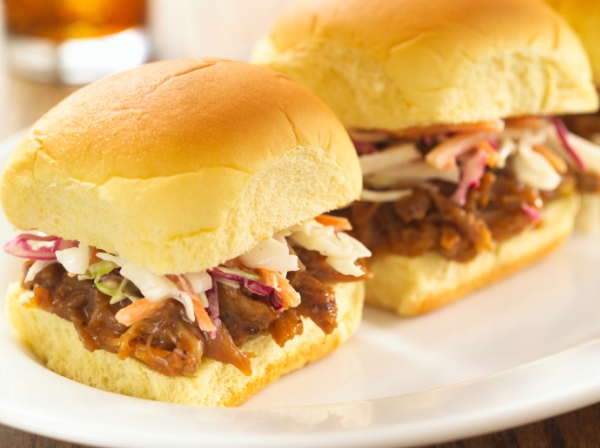 Evenings often evolve to a glazed ham or fillet of beef accompanied with condiments and rolls.  Having something substantial later in the evening will definitely keep your guests happy.
Another option is sliders.  These have been hugely popular over the past year or so and are a great idea parties.  Pulled pork can be cooked earlier in the day and then presented with a bowl of coleslaw or lettuce leaves and a mountain of buns for self assembly.
However you party evolves just make sure you have time to enjoy it as you should.
There is a lot to be said for hiring a few key staff members to do the work once guests arrive!
What are some of your favourite finger food ideas?