Summer is all about salads and whether it is a simple bowl of freshly picked leaves or a lavish affair of colour and texture, it is the perfect time to make the most of fresh summer produce.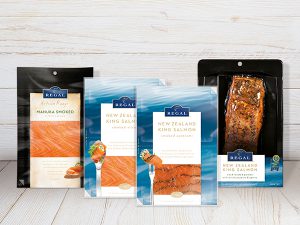 Salads are a popular meal choice in summer, they are often quick to put together and a great way to fill a bowl with a mixture of fabulous flavours.
Smoked salmon is an ideal "have on hand" salad ingredient, as well as being delicious, salmon also provides a good source of protein and essential Omega-3 fatty acids.
With a packet of smoked salmon in the fridge (be it hot or cold smoked), some fresh summer produce and a few key pantry staples, a delicious and nutritious meal is only minutes away!
It is well known that we eat with our eyes first and food that looks good is much more likely to taste good.  With this in mind this Regal smoked salmon fattoush is irresistible.  Full of colour and with a variety of textures it is ideal for both nights at home and casual entertaining.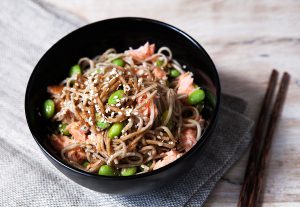 Japanese flavours are increasingly popular in NZ and this soba noodle salad with smoked salmon and edamame is a real lunch box staple for me.
It is quick and easy to make with ingredients I have on hand and you can pretty much add in any of your favourite summer vegetables .
Another great lunch box style salad is combining smoked salmon with pasta, mayo, chopped celery and dill.
Make it for dinner and just watch who fills their containers with leftovers for lunch the next day!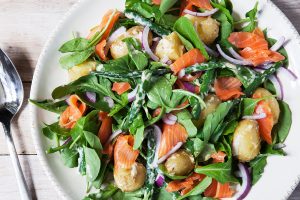 Salmon and potatoes are a fabulous combination, particularly when a creamy sauce is involved!  Cook some little jersey bennies, add some crisp green beans, sliced red onion salad leaves and twirls of Regal smoked salmon and there you have a warm summer salad that is smart enough for dinner guests.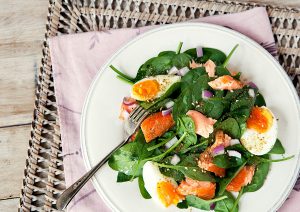 While dukkah may not be in every supermarket, it is easy to make and adds an exotic touch to simple fare such as bread and olive oil or poached eggs.  It is also fabulous with salmon and as well as being a tasty coating for pan fried fresh salmon it is delicious sprinkled over this salad of smoked Regal salmon with fudgy boiled eggs, a little chopped onion and baby spinach leaves.
These are some of our favourite salmon salad recipes, what are your favourite combinations?
Foodlovers summer salad tips
*For a simple vinaigrette style salad dressing, combine three parts oil with one part acid (such as vinegar or lemon juice) and season with salt, mustard and ground black pepper.
*Texture in salads is critical, add toasted seeds, nuts and finely chopped crisp vegetables such as onion and celery for some great crunch.
*Pasta, rice and couscous help to bulk up a salad and make it more filling.
* Using an array of ingredients adds colour and interest to salads.
* Add dressing just before serving to avoid soggy leaves!
* Homemade aioli is economical and easy to make, see our recipe here.
 To enter into the draw to win a $100 Regal Salmon Hamper simply enter your details below