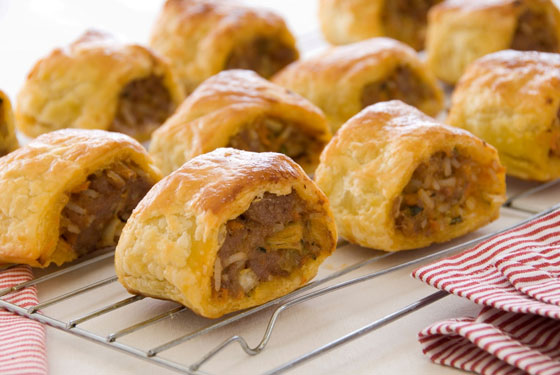 I tend to make these easy sausage rolls ahead of time and wrap in plastic wrap and freeze before cooking. Simply remove from the freezer, thaw and then bake. Do remember that these are not just for kids they are also very popular with adults.
Ingredients
500g

sauage meat

2 cups

cooked basmati rice

1 large

carrot, grated

2

courgettes, grated

1

onion, finely chopped or grated

1

clove garlic, finely chopped

1 tablespoon

choped parsley

2 tablespoons

tomato sauce

salt and pepper

450g

Edmonds puff pastry sheets

1

egg yolk or milk
Method
Preheat oven to 200 C.
Place all ingredients except pastry in a large bowl and mix with your hands ensuring that the sausage meat is incorporated with the rice and vegetables.
Place a long "sausage" along the edge of a sheet of pastry approximately 2cm in from the end. Roll the pastry over the sausage allowing 2cm of pastry overlap. Cut pastry and press to seal. Cut into slices of about 5cm long.
Brush pastry top with egg yolk or milk and arrange on a baking tray. Repeat process with the remaining sausage and pastry.
Bake for 15-20 minutes until pastry is golden and sausage is cooked through