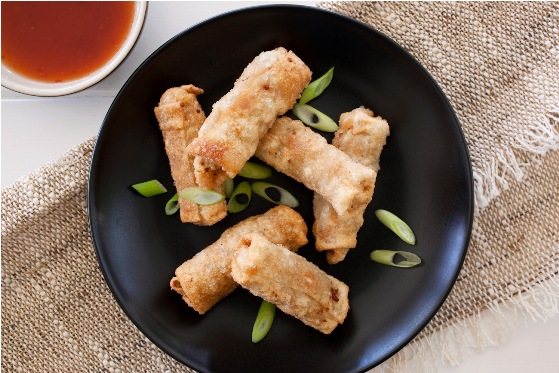 Makes 50
My children love making and eating these. They are easily frozen prior to cooking.
Wonton wrappers make samll spring rolls but you may prefer to buy larger wrappers to save time in making.
My children also love these Thai Style Pork Spare Ribs
Try making them with rice paper, just soak each sheet in water for about 40 seconds.
Ingredients
300g

pork mince

150g

prawns, finely chopped

1 tablespoon

soy sauce

2 teaspoons

sesame oil

2

cloves garlic, crushed

2 teaspoons

grated ginger

1 tablespoon

fish sauce

1 small - medium

carrot, grated

1 cup

mung bean sprouts, chopped in half

40g

vermicelli noodles, soaked in boiling water for 2 minuts

50

wonton wrappers
Method
Mix together all ingredients in a. bowl – aside from the wrappers and dipping sauce that is.  :)
Place a spoonful of mixture along the edge of a  wonton wrapper, brush the edges with water and then roll into a cigar shape folding edges in.
Heat 4-5 cm of oil and fry spring rolls in batches. Drain on paper towels and serve with sweet chilli dipping sauce.