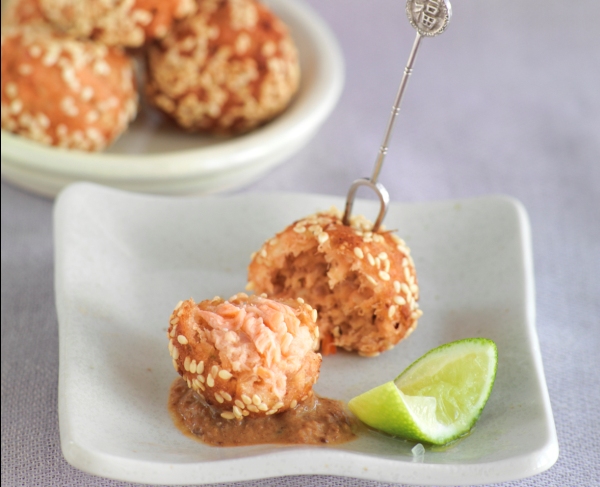 Ingredients
200g

Regal Wood Roasted Natural, flaked

2 teaspoons

coriander seeds, roasted

1 teaspoon

cumin seeds, roasted

1-2

small dried chillies (optional)

3

shallots, finely sliced

3

cloves garlic, finely sliced

1

teaspoon grated ginger

2

teaspoons finely chopped lemon grass

70g

ground almonds

2

egg whites

2 tablespoons

lime juice

1 cup

soy bean oil
Method
Using a large knife or food processor finely chop the coriander seeds, cumin seeds, chillies, shallots, garlic, ginger and lemon grass.
 In a large mixing bowl, mix together the spice mix, flaked Regal Wood Roasted Salmon and ground almonds. Leave to marinate for 3-4 hours or overnight in the fridge.
Just before you are ready to serve the fishcake, season to taste, add the egg whites and lime juice and combine well.Heat oil in a wok or deep frying pan. Fry a teaspoonful of the mixture to taste and if necessary add more salt or light soy sauce.
Using wet hands form the mixture into small balls. Shallow fry them for about 2 minutes one side. Turn them over and fry for 2 more minutes.
Serve with satay sauce