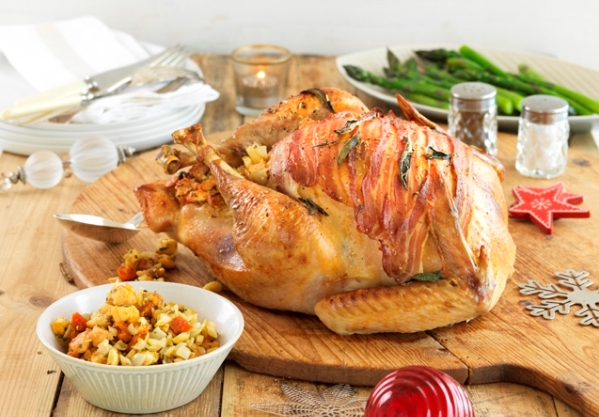 With Christmas just around the corner it is a time of planning. Many of us are planning holidays, the gifts we are going to buy and also what we plan to cook for our Christmas dinner.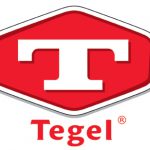 While we may eschew some of the Christmas traditions, Christmas dinner remains something that deserves to be steeped in tradition and style.
It is a day when then table is set with care, starting with a starched white cloth, the family silver (of sorts), the best dinner set, once a year glasses and a fabulous Christmas feast.
As the feature of the meal, both ham and turkey often take centre stage, the former I grew up with and the latter my own children have come to expect.
A well cooked turkey is truly impressive on the table, it is moist and delicious and packed with flavour rich stuffing.
Selecting and Thawing your Turkey
First things first, while it may seem completely obvious, do make sure you buy a turkey that will actually fit into your oven, ovens vary in size and if yours is on the smaller then choose a bird accordingly.  Also think sensibly about how many people you are catering for and buy to suit.
Once you have made your choice then defrost your turkey in the fridge (or a chilly bin with ice packs that you replace) for 2 days.
Cooking your Turkey
1. Take the turkey out of the fridge at least 2 hours before roasting. This is to take the chill from the meat which will help the meat to cook evenly.  It will also help the skin to dry which is good for colour and crispness.
2.  Calculate your cooking time. The turkey will need about 20 minutes per 450g plus an extra 25 minutes at the end of calculated time.  Preheat the oven to 180°C (375 F)
3. Turkey breast meat is lean so adding some extra fat is great.  This can be done by draping in streaky bacon, basting regularly or draping with buttered muslin.
Note: Tegel turkeys are tender basted so you can be sure they won't dry out, ensuring you get a perfect bird every time. 
4.  Prepare the stuffing and insert into both the main cavity and also into the neck flap.  Secure the cavities with skewers.
While a trussed turkey looks neat and tidy, we think the legs cook faster and get even crisp skin by leaving the bird untied.
5.  Sit the turkey in a roasting dish and if you wish to add extra fat then either completely cover the bird with a layer of the buttered muslin or drape with streaky bacon.
 6.  Roast the bird for the required time, to check if it is cooked insert a skewer into the thickest part of the thigh.  If the juices run clear then the turkey is cooked.
7.  Remove the muslin and rest the turkey with a tent of aluminium foil for about 20 minutes.  While the bird is resting you can make the gravy.
8.  Carve the turkey exactly the same way you would carve a chicken.
The choices of stuffing for turkey are endless and very much depend on your personal preference.
Some of us like something fruity with cranberry or apricot while others very much want the richness of a sausage meat type stuffing with spices and herbs.
Turkey goes particularly well with; sage, bacon, pork sausage, cranberries, apricot, garlic, onions, butter, garlic, oregano, parsley, celery, lemon, yoghurt, sage, rosemary, thyme, pistachio, orange…..
This year we have lined up a few wonderful new stuffing recipes that vary in texture and flavour but are equally delicious and perfect for your Christmas bird.
Pork, Fennel & Apple Turkey Stuffing
This stuffing is seriously good, while the base is sausage meat, the fennel seeds, grated apple, hazelnuts and toasted crumbs lighten the meat up to form a moist delicious stuffing.
Makes enough to stuff a size 5.5 Tegel Turkey
2 medium onions, finely chopped
2 teaspoons fennel seeds
500g traditional pork sausages
150g whole grain breadcrumbs, lightly toasted
1 green apple, grated (skin included)
½ cup hazelnuts, lightly toasted, skins removed and nuts roughly chopped
¼ cup chopped parsley
2 teaspoons thyme leaves
1 egg, lightly whisked
Heat a film of oil in a large frying pan and cook the onions and fennel seeds until the onion has softened, about 10 minutes.
Slip the sausages from their casings into a large mixing bowl.  Add the toasted breadcrumbs, apple, hazelnuts, parsley, thyme, onion, fennel seeds and egg, season with salt and freshly ground black pepper.  Using your hands mix the ingredients until well combined.
Stuff the turkey neck end and cavity with the stuffing, secure and cook according to package instructions.
*Any excess stuffing can be shaped into balls and cooked with the turkey for the last 30 minutes of cooking.
While trussing your turkey may seem like the tidy thing to do, we think you get better browning and the legs cook easier by leaving them untied.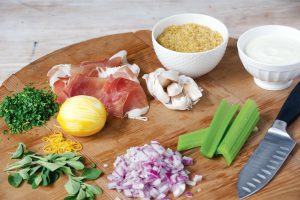 Greek Style Turkey Stuffing
The lovely tang of yoghurt combined with lemon, prosciutto and the freshness of herbs, all combine to make this stuffing light and luscious yet very flavoursome.
(It is also wonderful with chicken).
Makes enough to stuff a size 4-5kg Tegel Turkey
1 cup bulgur wheat
1 red onion, finely chopped
2 cloves garlic, crushed and chopped
1 stalk celery, finely chopped
5 thin slices prosciutto, finely chopped
2 teaspoons dried oregano
¼ cup chopped parsley
finely grated zest of 1 lemon
1 cup full fat Greek yoghurt
Place the bulgur wheat in a bowl and cover with boiling water, set aside for 15 minutes.
Meanwhile, heat a generous film of oil in a large frying pan and gently cook the red onion, garlic, celery, and prosciutto for 15 minutes or until the onion and celery are tender.
Remove the pan from the heat and then mix in the bulgur wheat, parsley and lemon. Stir the yoghurt into the pan and season with salt and pepper.
Spoon the stuffing into the turkey cavity, secure and cook as per package instructions.
It is important to rest a turkey after cooking.  30 minutes is ideal, just cover the turkey with a loose foil "tent".

Mediterranean Turkey Stuffing
Any excess stuffing is lovely alongside "next day" turkey or stuffed into sandwiches and rolls with slices of meat.
Makes enough to for a size 4-5kg Tegel Turkey
1 cup farro (or bulgur wheat or couscous*)
1 onion, diced
2 cloves garlic, crushed and chopped
100g chorizo, chopped into .5cm chunks
100g button mushrooms, finely sliced
½ cup Kalamata olives, pitted and roughly chopped
¼ cup chopped parsley
¼ cup pine nuts, lightly toasted
Place the farro in a small saucepan and rinse well before covering with 2 ½ cups of cold water. Bring the water to the boil and then reduce to a simmer, cover and cook the farro for 20 minutes, drain well and set aside.  While the farro is cooking, heat a generous film of oil in a frying pan and gently cook the onion and garlic for 10 minutes until the onion is starting to soften.  Add the chorizo and mushrooms and cook a further 5 minutes before adding the olives, parsley and pine nuts.  Add the drained farro to the pan, mix well and add salt and pepper to taste.
Spoon the stuffing into the turkey cavity, secure and cook as per package instructions.
Any excess stuffing can be served warm alongside the turkey.
*If using bulgur wheat or couscous then cook according to packet instructions.
Did you know that a buttered piece of muslin is ideal for sealing in moisture on your Roasted turkey?  Buttered muslin turkey.
For more Turkey stuffing recipes and also ideas for left overs check out tegel.co.nz
What are your best turkey tips and stuffing ideas?