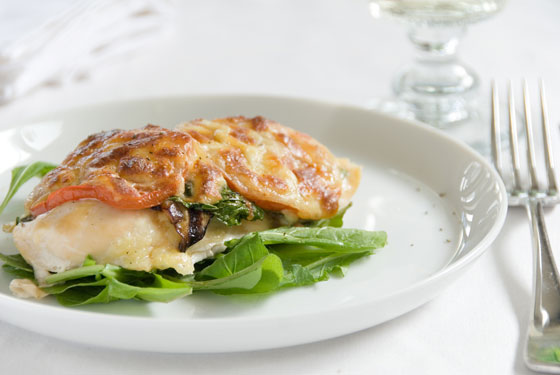 Ingredients
1 eggplant
olive oil
6 chicken breast fillets
1 cup tomato pasta sauce
1 cup basil leaves
3 medium tomatoes, sliced
250 g mozzarella. grated or sliced
1/2 cup grated parmesan cheese
Method
Preheat the oven to 180 C.
Slice the eggplant into 1 cm thick slices. Brush with olive oil and grill or pan fry until just tender.
Pour the sauce into an ovenproof dish and arrange the chicken breasts in a single layer.
Cover each chicken breast with basil leaves, top this with a slice of eggplant and then tomato slices. Season with salt and freshly ground black pepper and then sprinkle over mozzarella and parmesan.
Bake for 25 minutes until chicken is cooked and topping golden. Serve with green leaves.