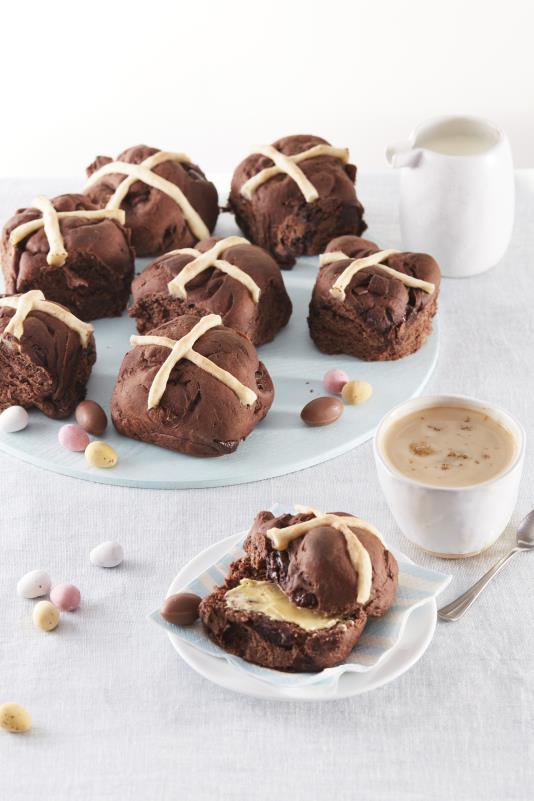 Chocolate hot cross buns are a favourite with the kids and adults who are brave enough to admit it. :)
Of course regular hot cross buns are awesome too, you can find our recipe here –
Hot Cross Buns
Ingredients
1/3 cup

raisins

1 1/2 cups

full cream milk

2 teaspoons

active yeast granules

2 teaspoons

caster sugar

4 1/2 cups

high grade flour

1/2 cup

cocoa

1/3 cup

caster sugar

1 teaspoon

ground cinnamon

1 teaspoon

ground mixed spice

1/2 teaspoon

salt

75g

butter, melted

150g

dark chocolate, roughly chopped

1/4 cup

raisins

1

size 7 egg, lightly whisked

3/4 cup

high grade flour extra, for crosses
Method
Place the raisins in a bowl with 2 tablespoons boiling water, set aside (for a rich flavour you can use dark rum instead of water).
Heat the milk in a small saucepan or the microwave until just lukewarm. Sprinkle over the yeast and sugar and gently stir to combine. Set aside for 5 minutes until frothy.
In a large mixing bowl sift the flour, cocoa, 1/3 cup caster sugar, cinnamon, mixed spice and salt.
Lightly mix to combine and then make a well in the centre.
Pour in the melted butter, the whisked egg and yeast milk mixture, using a knife mix to combine.
Turn the dough out onto a lightly flour dusted surface, scatter over the chopped chocolate and raisins and knead the dough for 10 minutes until it feels smooth and elastic.  If you have a cake mixer with a dough hook then that is great for this.
Place the dough into a lightly greased bowl, cover with a clean tea towel and place in a warm spot until doubled in bulk. About 1 1/2 hours.
Turn the dough out again, lightly knead and divide into 10 balls.
Place these close together in a greased roasting pan. Cover, sit in a warm spot and allow to double in bulk.
Preheat the oven to 200 C.
Place the flour in a bowl and mix in cold water, a little at a time until the flour forms a thick paste. Place the paste in a piping bag.
Pipe crosses onto the buns. Place in the oven and bake for 20 minutes until the buns feel firm on the outside and they have good colour.
Allow to cool to just warm before serving.
These are best on the day of making.