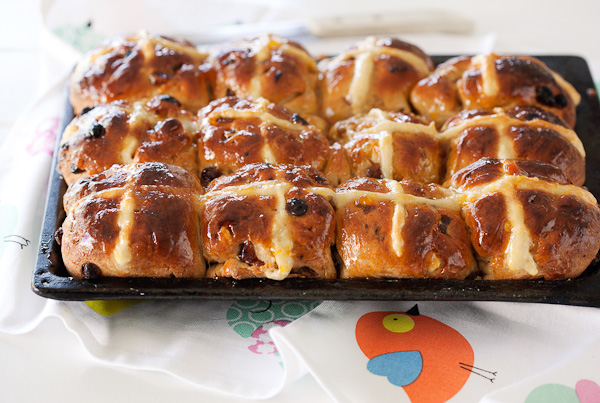 Makes 12
Ingredients
3/4 cup

sultanas

3/4 cup

raisins

2 teaspoons

dried yeast

2 teaspoons

caster sugar

1 1/2 cups

milk, warmed

5 cups

highgrade flour

1/2 tseaspoon

salt

75g

butter, melted

1

size 7 egg

1/3 cup

caster sugar

2 teaspoons

mixed spice

1 tablespoon

cinnamon

100g

mixed peel

1/2 cup

flour

4

tablespoons water

2 tablespoons

apricot jam

2 tablespoons

water

1 tablespoon

sugar
Method
Place sultanas and raisins in a bowl, pour over 1/2 cup boiling water and set aside for 20 minutes.  If you want to make them extra luscious then add half dark rum and half water.
Combine yeast, 2 teaspoons sugar and warm milk in a large bowl and set aside for 5 minutes. The mixture should start to foam.
Mix the flour, sugar, spices and salt in a bowl and make a well in the centre.  Pour in the milk mixture, butter and egg.
Mix to combine and then mixed in the drained sultanas, raisins and the mixed peel. Turn the dough out to a floured
board and knead for 10 minutes until the dough feels smooth and elastic.
Place the dough in an oiled bowl and cover. Place in a warm spot and leave
for 30 minutes or until doubled in bulk.
Turn out dough and lightly knead.
Divide dough into 12 balls and place in a greased 23cm square cake tin.
Cover and sit in a warm place until doubled in size. Preheat oven to 200 C Mix together the flour and water for crosses and place in a piping bag or plastic bag with the corner snipped. Pipe crosses on buns. Place in oven and bake for 20 minutes or until golden and springy to touch.
Meanwhile, place the jam, water and sugar in a small saucepan and stir over medium heat
for a couple of minutes. Brush hot buns with the apricot glaze.