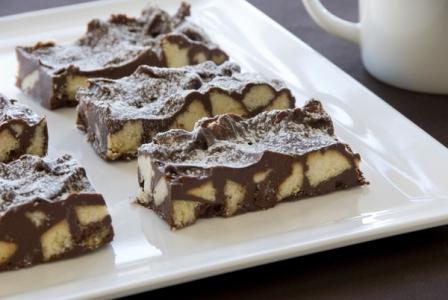 Ingredients
100g butter
2 rounded tablespoons (60g) golden syrup
250 g dark chocolate
200 g shortbread (I use Kohi brand) broken into rough chunks
icing sugar for dusting
Method
Gently melt together the butter, golden syrup and chocolate in a saucepan or in the microwave on reduced heat.
Remove from the heat and add shortbread pieces, gently stirring until well mixed. Press into a lined small slice pan and refrigerate until almost firm, slice into bars and then refrigerate until hard.
Dust with sifted icing sugar prior to serving.