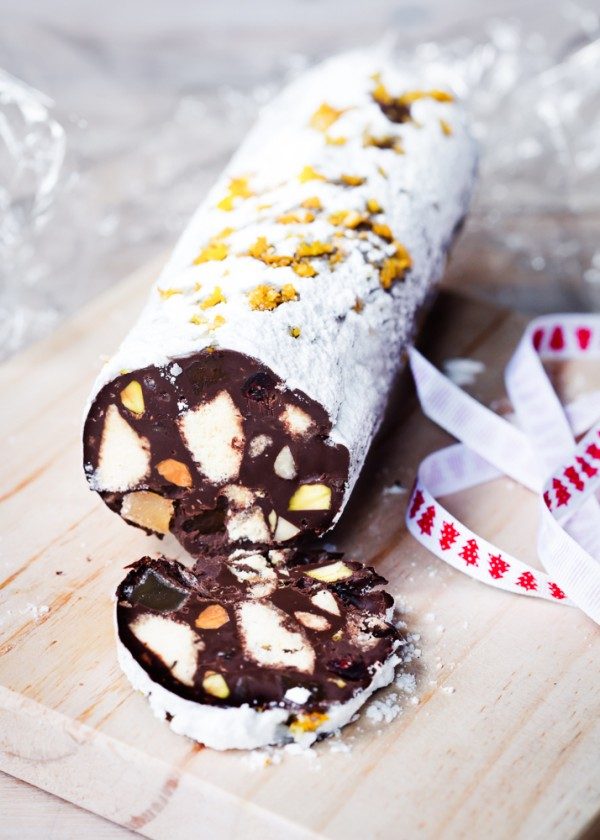 Sliced finely and served with coffee or liqueur, this slice is rich and decadent.
Ingredients
250g (8oz)

dark chocolate, roughly chopped

2 tablespoons (50g 1.7oz)

golden syrup

75g

butter

1 egg

yolk, lightly whisked

100g (3.5oz)

shortbread, broken into small pieces approximately 1cm diameter

100g (3.5oz)

nuts, lightly toasted and roughly chopped (e.g. almonds, hazelnuts, pistachio nuts)

50g (1.7oz)

crystallised ginger, chopped

1 tablespoon

finely grated orange rind

1/4 cup

icing sugar
Method
Place the chocolate, golden syrup and butter in a mixing bowl and sit over a saucepan of simmering water.  Once the chocolate starts to melt then turn off the heat and leave to sit for 5 minutes before stirring until smooth.   Mix in the egg yolk and then the shortbread, nuts, ginger and orange rind.
Sit aside until cook and then refrigerate until the mixture is starting to thicken.
Tip the chocolate mixture out onto a sheet of plastic clingfilm.  Wrap the clingfilm around the chocolate rolling it into a log approximately 5cm in diameter. Twist the ends to make sure the clingfilm is tight, adding another layer if you need to.
Refrigerate for several hours until firm.
Unwrap the log and then dust with icing sugar and a little extra orange rind if you like.
Slice as needed.
Store in the refrigerator in sealed container.