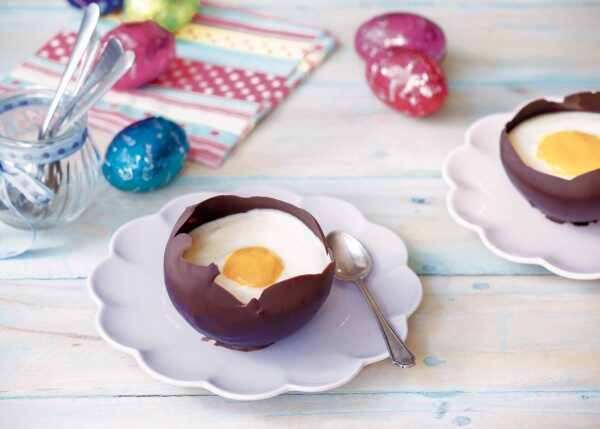 By
Ingredients
200g dark or milk chocolate, roughly chopped

1 teaspoon neutral flavoured oil

200g white chocolate

2 egg whites

300ml cream

400g can mango slices
Method
Melt the dark chocolate with the oil in a bowl over a saucepan of simmering water or in the microwave on reduced heat.  Stir until smooth.
Allow the chocolate to cool until just warm.
Blow up 4 balloons to the size of a large orange.  Spray the balloons with neutral flavoured oil.
Dip the balloons in to the chocolate mix, swirling to coat, Hold upside down for a minute or so before placing on a foil or baking paper lined tray to set.
Once the chocolate is firm prick the balloons with a pin and then carefully remove.
If there is a hole in the base of the bowl then simply patch up with a little more melted chocolate.
Gently melt the white chocolate in the same manner as above.
Beat the egg whites until stiff, then fold into the chocolate mixture until well combined. Whip the cream until it forms soft peaks then gently fold the cream into the chocolate mixture. Gently fold the cream into the chocolate mixture.
Drain the mango and then blitz the fruit in a blender until smooth.
Spoon the white chocolate mousse into the chocolate bowls and refrigerate until set.
Scoop out a hollow in the centre of each and fill with mango puree.