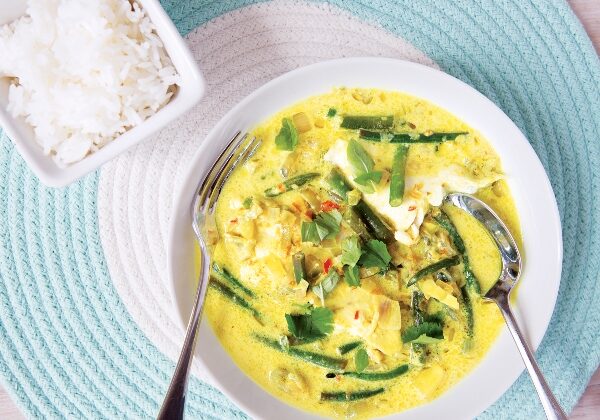 Ingredients
2

tablespoons neutral flavoured oil

2

cloves garlic, finely chopped

150g

shallots, finely chopped

2

teaspoons chopped lemongrass

2

red chillies, finely chopped (more or less to taste)

1 1/2 teaspoons

grated galangal

2.5cm

piece turmeric, finely chopped (or 1 teaspoon turmeric powder)

sprinkling of salt

2

kaffir lime leaves, finely sliced

2 tablespoons fish sauce

1 tablespoon

finely chopped palm sugar (or brown sugar)

2 x 400ml

cans coconut milk

generous squeeze of lemon or lime juice

600g

white flesh fish fillets cut into 5cm chunks

200g

green beans, chopped into 5cm pieces and blanched

coriander/basil/vietnamese mint leaves

crisp fried shallots (optional)
Method
Fish Amok is a popular curry in Cambodia.  We ate it repeatedly and interestingly it was never the same.  Sometimes an egg was used to thicken it and at the other extreme it was quite soup like in texture.
This is my version and one I think is quite delicious!
Note, the recipe has been edited since first published as I decided to increase the fish sauce and galangal.
Heat the oil in a wok or large frying pan.
Gently cook the garlic and shallots for about 10 minutes, until the shallots are tender.
Add the lemongrass, chilli, galangal and turmeric to the pan and continue to gently cook for another 5 minutes before adding the salt,  fish sauce and sugar.  Stir until the sugar has dissolved into the other ingredients.
Add the coconut milk, bring to the boil and then immediately reduce to a simmer.  Add the squeeze of lemon juice and then taste the broth and adjust flavour if needed.
Add the fish and beans and gently cook just until the fish is cooked through.
Divide between 4 bowls and scatter with herbs and crisp shallots if using.
Serve with steamed rice.
* chopped lemongrass can be found in jars in the spice section of some supermarkets.
Galangal can be grown in mild areas of NZ or bought frozen in Asian supermarkets.  It is also available minced in jars in supermarkets.
Turmeric can also be bought frozen.
Grated lime rind can add a citrus flavour if lemongrass isn't available.