Serves 12
Prep 20 minutes
Cook 35 minutes
Ingredients
250g self-raising flour
3 tsp ground ginger
1/2 tsp ground cinnamon
1 tsp baking soda
125g Billingtons Molasses sugar
2 tbsp golden syrup
125g butter
2 eggs, beaten
1 cup milk
juice 1 lemon
1 Tbsp golden syrup
275g icing sugar
4 pieces crystallized ginger, diced
Method
1 Preheat oven to 180C. Grease and base line a 19cm x 28cm tin.
2 Sift the flour, spices and baking soda into a bowl, then stir in the Molasses sugar. Gently melt golden syrup and butter together, and then take off the heat.
3 Beat the eggs and milk together, then pour this and the golden syrup mixture into the dry ingredients and mix well. Pour into the tin, and then bake for 35 mins, until cooked and springy to the touch. Turn out of the tin and place on a cooling rack sat over a tray.
4 Put the lemon juice and golden syrup into a small bowl, and then mix together. Sift the Icing sugar into the bowl and mix well. Add the diced ginger then spoon the mixture over the tray bake – the tray will catch the drips. Cut into 12 squares.
[homepageimage]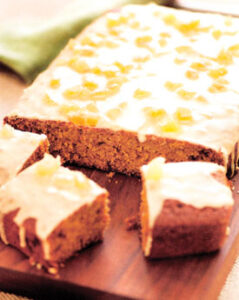 [/homepageimage]
[smallimage]

[/smallimage]