Makes 10
Prep 10 minutes
Cook 20 minutes
Ingredients
Juice 1/2 lemon
2 bananas, cut in half lengthways then sliced
140g wholemeal flour
100g self-raising flour
1 1/2 tsp baking powder
1/4 teaspoon ground cloves
175g Billingtons Dark Muscovado sugar
85g butter, melted
100ml milk
1 egg, lightly beaten
Method
1 Preheat oven to 180C. Line a muffin tray with paper cases.
2 Put the lemon juice in a small bowl, and then add the banana, stirring to coat in the lemon juice.
3 Place the self-raising flour, wholemeal flour, baking powder, ground cloves, and Billingtons Dark Muscovado sugar into a bowl. Then mix together, taking care not to break up any lumps of Muscovado sugar.
4 In another bowl, beat together the melted butter, milk and egg.
5 Pour the wet ingredients into the dry, and then mix briefly. Add the banana and lemon juice and mix briefly again – do not over mix.
6 Divide between the paper cases, and bake for 20-22 mins until risen and golden. Serve warm or cool.
[homepageimage]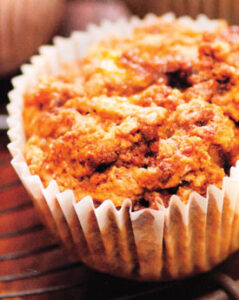 [/homepageimage]
[smallimage]

[/smallimage]