Serves 6
For the Filling:
450g any fruit and berries
2 tablespoons balsamic vinegar
3 heaped teaspoons Billingtons unrefined golden granulated sugar
For the Crumble:
225g plain flour
110g butter
100g unrefined Billingtons Demerara sugar
A pinch of salt
Put the fruit into a bowl with the balsamic vinegar and the sugar, toss and set aside while you make the crumble.
Put the flour, butter, sugar and salt in a food processor and blitz until it resembles fine breadcrumbs (you can do this in a mixer or by hand: just rub the mixture between your fingers). Don't work the mixture too much as it will turn into pastry.
Put the fruit into a shallow ovenproof serving dish. Sprinkle the crumble mix over the fruit. Give the dish a bit of a shake and bake it in the oven at about 200 degrees for about half an hour, or until the top is evenly golden. If it starts to go too dark round the edges, turn the oven down a little.
[homepage]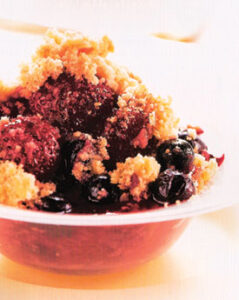 [/homepage]
[smallimage]

[/smallimage]