Serves 12
Prep 25 minutes, Cook 1 hour
2 pears, peeled, cored and sliced lengthways into 8 pieces
zest and juice ½ lemon
1 cinnamon stick
85g Billingtons Golden Granulated sugar
225g butter
225g caster sugar
3 eggs, beaten
225g ground almonds
100g plain flour, sifted
1 tsp ground cinnamon
2-3 tsp Billingtons Demerara sugar
1 Preheat oven to 190C. Grease and base line a 20cm loose bottomed cake tin.
2 Put the pears, 250ml water, lemon zest and juice and cinnamon stick in a saucepan and bring to the boil. Simmer for 3-4 minutes until the pears are slightly tender. Leave to cool in the liquid.
3 Heat the Granulated sugar very gently in a small pan until it melts and starts to caramelise. Take off the heat, and then add 20g of the butter – be careful as it will split. Pour the caramel into the prepared tin.
4 Drain the pears and place them in a circle on the caramel.
5 Cream together the remaining butter and the caster sugar until light and fluffy.
6 Gradually add the eggs beating after each addition and adding a little flour if the mixture starts to curdle.
7 Fold in the ground almonds, flour and ground cinnamon, then spoon the mixture into the tin on top of the pears.
8 Bake in the oven for 50-60 minutes until golden and cooked through (test this by inserting a skewer into the middle – it should come out clean).
9 Run a knife around the edge of the cake then turn out into a plate.
10 Sprinkle with Demerara sugar whilst still warm, then serve cut into wedges, with dollops of crème fraiche.
[homepage]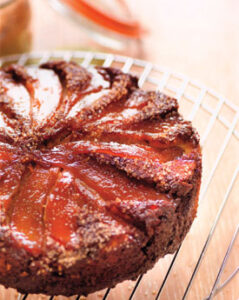 [/homepage]
[smallimage]

[/smallimage]
homepage]