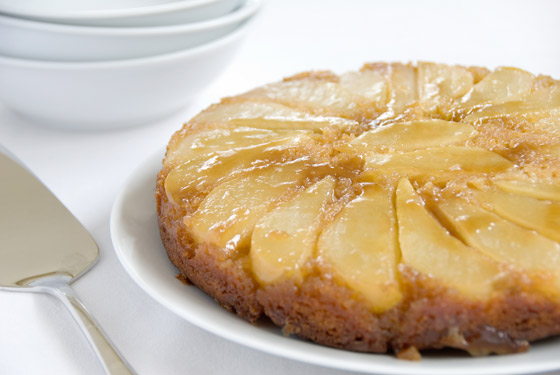 Serves 8.
this cake is delicious with caramel sauce, pouring custard or with whipped cream.
We love it as a dessert.
Ingredients
50 g butter
1/3 cup brown sugar
3 medium firm pears, peeled and sliced into eighths
150 g butter
1 cup lightly packed brown sugar
3 eggs
1 1/3 cups self raising flour
1 teaspoon baking powder
2 teaspoons ground ginger
Method
Preheat the oven to 180 C.
Line the base of a 22 cm spring form cake pan with baking paper.
Melt the 50 g butter and 1/3 cup brown sugar together and pour over the baking paper. Cover with sliced pears in a circular pattern. Beat together butter and sugar until pale and creamy, add eggs, one at a time, beating well after each addition. Stir in the combined flour, baking powder and ginger. Spoon the cake batter over the pears.
Bake for 40 minutes until cake tests cooked when a skewer inserted comes out clean. Leave to rest for 5 minutes and then invert onto a serving plate.
Serve with whipped cream or caramel sauce or both!