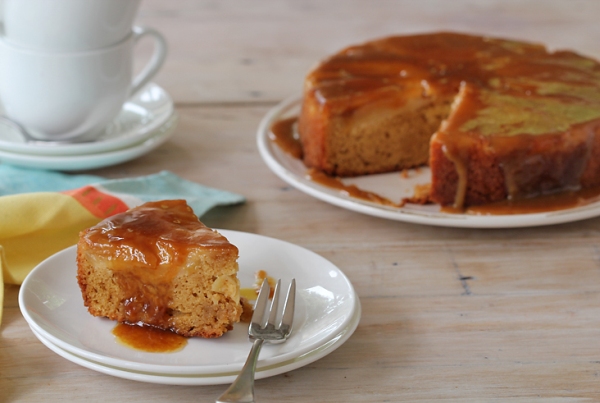 Bev
Ingredients
175 g brown sugar
115 g self raising flour
115 g butter
3 eggs
1 teaspoon baking powder
topping
115 g butter
115 g brown sugar
2 tablespoons cream
Ingredients
Method
Preheat oven to 180 C.  Grease and line a 20cm round spring form tin.
Quarter apples, remove cores and then thinly slice, arrange in the base of the tin and sprinkle with  1/4 cup of the brown sugar.
Cream butter and reamaing sugar. Beat in eggs one at a time and then sift in flour and baking powder. Spoon the batter over the apples. Bake for 30 minutes or until cake tests cooked.  Allow to cool for 10 minutes in the tin before turning out so the apples are on top.
Topping
Melt the butter and sugar in small pan, allow to boil over a gentle heat until golden brown. Remove from the heat, stir in the cream and then heat for a few minutes more, stirring.  Drizzle caramel over the surface of the cake and serve the remainder with the cake.
Lovely warm or cold.