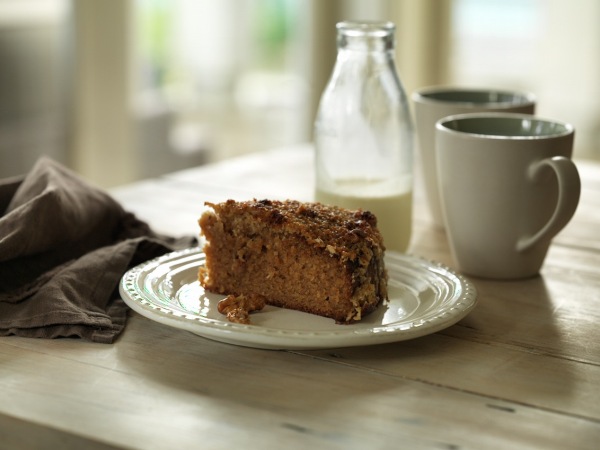 Lynley
Ingredients
225 g flour
1 1/2 teaspoons ground cinnamon
1/2 teaspoon ground cloves
1/2 teaspoon grated nutmeg
2 teaspoons baking powder
1/2 teaspoon salt
1 teaspoon baking soda
4 large eggs
250 g brown sugar
175 g butter, melted
250 ml yoghurt
Topping
50 g dessicated coconut
50 g walnuts, chopped
115 g brown sugar
85 g butter, melted
Method
Preheat oven to 160 C (325 F). Grease & flour 24cm cake pan.
Sift flour, cinnamon, cloves, nutmeg, baking powder, salt & soda into a large mixing bowl. Make a well in the centre.
Break the eggs into another large bowl, add the sugar and beat well, stir in the melted butter & yoghurt. Pour this mixture into the flour and fold until well blended.
Pour into cake pan, & smooth over the surface with back of spoon, bake for 40-45 mins until a skewer comes out clean. Turn onto wire rack to cool.
Mix all the topping ingredients together in a bowl and spread evenly over the top of the cake when cool. Place the cake under a hot grill for 2-3 minutes until topping is golden & crisp, taking care not to burn. Return to the wire rack to cool. Eat.