As featured in "It's Complicated" from Universal Pictures.
These are best eaten fresh but if you do want to keep them for a day or two, store them in an airtight container once fully cooled and gently reheat before serving. You can try substituting white chocolate for a special treat.
Ingredients
170ml cup milk
4 cups to 4 1/2 all-purpose flour,divided
60ml vegetable oil
3 mini chocolate bars
250g butter, softened
2 tsp salt
2 large eggs
¼ oz fresh yeast
3 tblsp caster sugar
125ml warm water
Place butter into a rectangle on wax paper and place in fridge to chill. Add yeast, 1 tablespoon sugar, and water to a bowl and mix, leaving to stand for 5 minutes. Whilst heating milk, add remaining two tablespoons of sugar, half the amount of flour, vegetable oil, salt and eggs into the yeast mix and mix ingredients together until smooth. Gradually stir in remaining flour until you have a soft dough. Sprinkle flour onto a hard surface, turn out dough and knead until smooth and elastic. Place in a well-greased bowl and turn dough over, so the top is greased. Cover and place in a warm place to rise for 1 hour or until doubled in size. Push dough down. Cover with plastic wrap, and chill dough for a further 1 hour. Turn dough out onto a lightly floured surface, and roll out. Place chilled butter rectangle in centre of dough, and carefully fold dough over butter. Pinch the edges to seal. Roll dough out again; fold into thirds, beginning with short side. Cover and chill for 1 hour. Repeat rolling and folding procedure two more times, chilling dough 30 minutes each time. Wrap dough in aluminium foil, and chill for 8 hours. Divide dough into equal portions and roll into balls. Take 1 ball and roll flat on a floured surface, and cut into wedges. Put 3 pieces of chocolate in the wide end of the wedge of dough and roll the wedge to meet the thinnest part, curl the edges of the dough into a crescent shape and pop onto baking tray. Cover over and keep in a warm place for 30 minutes or until doubled in size. Repeat for all wedges and remaining dough. Put in oven on Gas mark 7/220°C for 8 minutes or until lightly golden. Place on wire rack to cool and enjoy! 
It's Complicated. Buy it now on Blu-ray & DVD
©2010 Universal Pictures, All Rights Reserved
 [homepageimage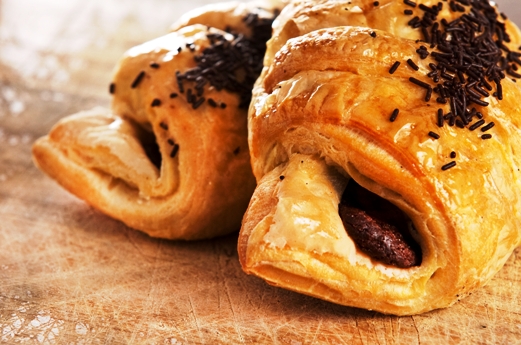 /homepageimage/
[smallimage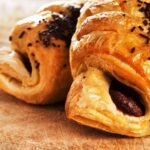 /smallimage]