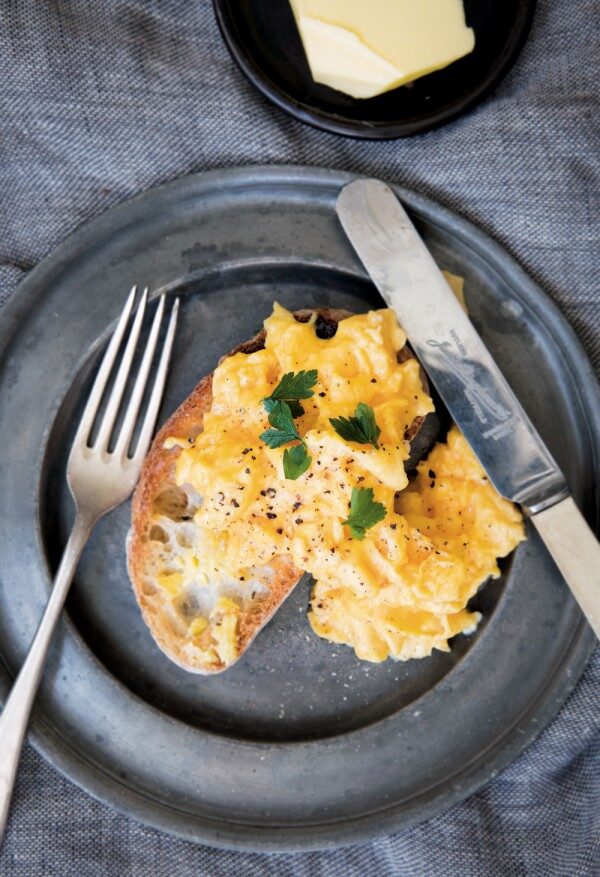 Method
Perfect scrambled eggs can be one of the best breakfast dishes ever.
The trick though is to get the eggs to a perfect creamy consistency, not over cooked nor under cooked but just right.
2 size 7 (or 8)  Traditional Free Range eggs
salt and freshly ground black pepper
generous knob of butter
Whisk the eggs together in a small bowl and season with salt and pepper.
Place a small saucepan over a low- medium heat and add enough butter to cover the base of the pan once melted.  Allow the butter to bubble but not colour as this will affect the egg colour.
Pour in the egg mixture along with a dash more butter and leave to cook for about 20 seconds, tilt the pan to see if there is a layer of egg on the base.  The egg shouldn't be coloured but just starting to set. If so then very gently lift with a wooden spoon, folding the base up and over the uncooked egg,  then leave for a further 15 seconds before gently stirring again.  Continue to watch and then gently stir until the eggs are softly cooked but still slightly runny in places.  Remove the pan from the heat, the residual heat will continue to cook the runnier egg to soft.
Spoon the egg over toast and serve straight away.
Sprinkle with chopped parsley if you like.
How do you cook your scrambled eggs?