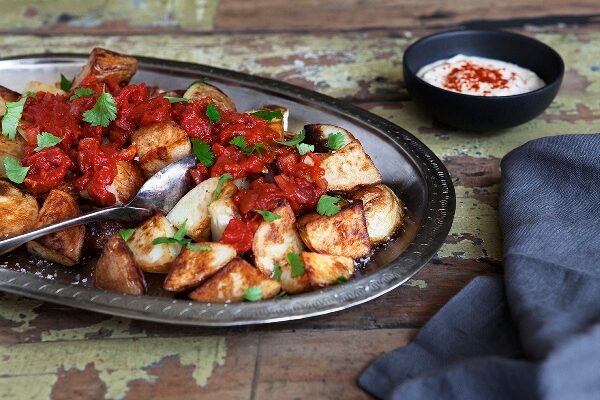 Ingredients
600g (1.3 pounds)

floury potatoes

olive oil

1 clove garlic, finely chopped

1 red onion, finely chopped

1 red chilli, seeds removed and finely chopped

400g (14 oz)

can crushed tomatoes

1 teaspoon

smoked paprika

1/2 teaspoon

sugar

1 tablespoon

sherry vinegar

coriander leaves

aioli
Method
Preheat the oven to 200 ºC (400 F).
Peel the potatoes and roughly chop into 2.5cm chunks (1 inch).  Dry potatoes well with paper towels or a clean tea towel.
Drizzle a generous film of oil in the base of a roasting dish and place in the oven for 5 minutes before carefully adding the potatoes to the hot pan, it will be easier to lift the pan out of the oven to do so.
Roast the potatoes for about 45 minutes until golden, crisp and cooked through.
While potatoes are cooking, gently cook the onion, garlic and chilli in a film of oil in a small frying pan over a gentle heat.  Once the onion is tender then add the smoked paprika, tomatoes, sugar and a good pinch of salt.  Simmer on a gentle heat for about 15 minutes and then add the sherry vinegar.  Taste and adjust seasonings if needed.
Remove the potatoes from the roasting pan and arrange on a platter, sprinkle generously with sea salt.  Spoon over the tomato mixture and sprinkle with coriander leaves.
Serve with aioli as part of a meal.
Serve warm or at room temperature.