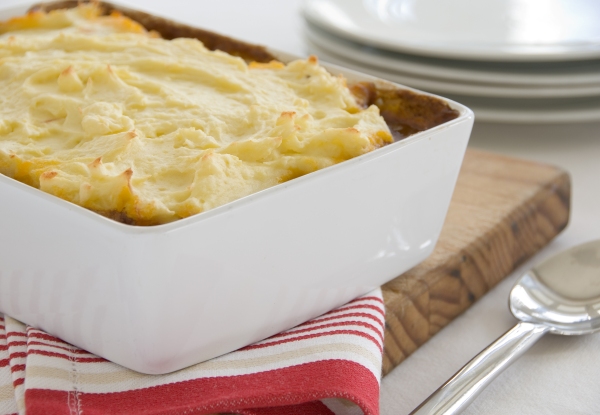 Serves 4-6.
Ingredients
2 tablespoons olive oil
1 onion, finely chopped
2 medium carrots, chopped
2 cloves garlic, crushed
1 stalk celery, finely sliced
½ cup red wine
400 g can crushed tomatoes
1 cup beef stock
1 tablespoon finely chopped herbs (eg parsley, rosemary, oregano, thyme)
4 cups shredded cold roast lamb
1 tablespoon flour
1 kg floury potatoes
2 tablespoons butter
3/4 cup milk
Method
Preheat the oven to 180 C.
Heat the oil in a frying pan and gently cook the onion, carrots, garlic and celery until celery is just tender.
Increase the heat and pour in the red wine, allowing it to bubble and reduce.
Add the tomatoes, beef stock, herbs and meat. Bring to the boil and then season to taste with salt and freshly ground black pepper.
Mix the flour with ¼ cup water until it is smooth, pour this into the lamb and stir to combine.
Meanwhile cook the potatoes in salted water, drain well and then mash with butter and milk.
Pour the lamb into a baking dish and top with potato. Bake for 20 minutes until potato is golden.