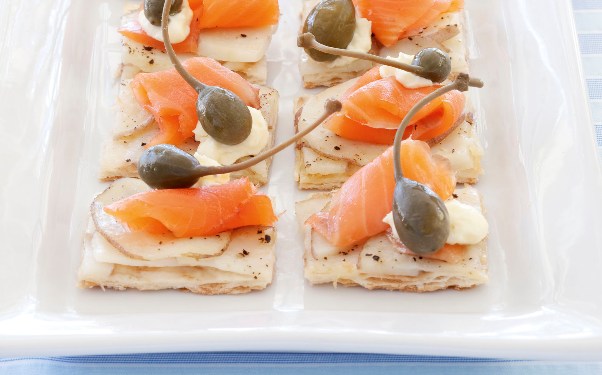 Ingredients
1 Bazaar pizza base

3 Desiree potatoes, washed and thinly sliced

2 tbsp olive oil

salt and freshly ground black pepper

1 cup grated fresh mozzarella

100g smoked salmon slices

25 caper berries

¼ cup mascarpone
Method
1. Preheat oven to 220 C Place the pizza base on an oiled pizza pan. Cover with overlapping thinly sliced potato, brush with oil and sprinkle generously with salt and freshly ground black pepper.
2. Bake for 15 minutes, or until potato is cooked.
3. Remove pizza from the oven and allow to cool slightly.
4. Square the edges of the pizza off and then cut into 25 small squares.
5. Place a curl of smoked salmon on each piece and a small dollop of mascarpone.  Pop a caper berry onto the mascarpone and serve.