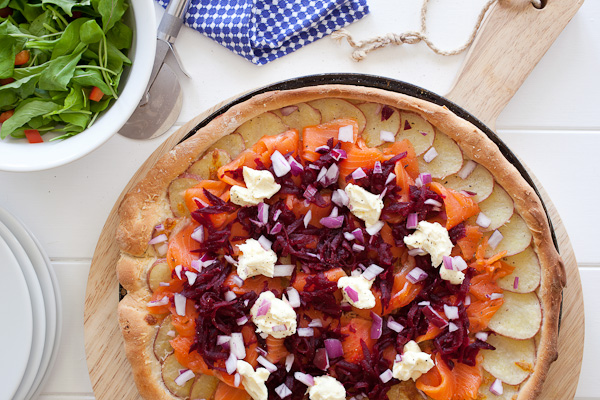 Yield:
Makes 1 large pizza
Ingredients
1/2

quantity pizza dough (see recipe)

2-3

red skinned potatoes, scrubbed and thinly sliced

salt and freshly ground black pepper

extra virgin olive oil

1/2 cup

grated mozzarella cheese

1/2 cup

grated parmesan cheese

250g

smoked salmnon slices

2

medium sized beetroot, cooked and grated

1/2 cup (125g)

sour cream (you can also use mascarpone as photographed)

1 tablespoon

prepared horseradish (optional)

1

red onion, finely chopped
Method
Preheat oven to 200 C.  Roll out dough on a lightly floured surface and then fit
it into an oiled 30cm pizza tin or place on a pizza stone.
Arrange potato slices over the base and sprinkle with salt and freshly ground black pepper. Scatter over the mozzarella and parmesan and drizzle with a little olive oil. Bake for 15-20 minutes or until base is golden and potato cooked.
Remove from the oven and decorate with smoked salmon slices and grated beetroot.  Dot with spoonfuls of combined sour cream and horseradish,  scatter with chopped onion.  Season with coarsely ground pepper and serve.