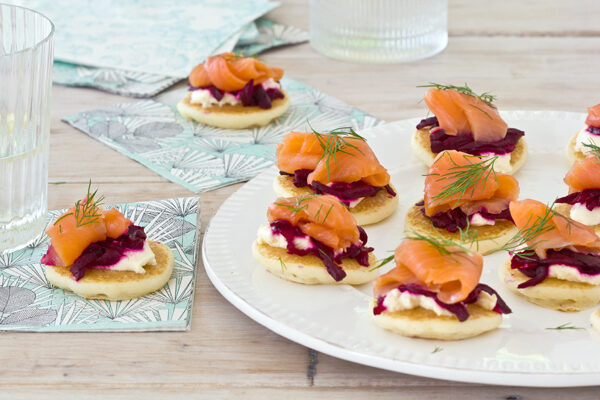 Ingredients
1-2

beetroot, roasted and cooled

250g

creme fraiche

1 tablespoon

prepared horseradish

splash of vodka (optional)

pinch of sea salt

30 blinis

150g Regal Artisan Range Manuka Smoked Salmon

Fresh dill
Method
Tip the creme fraiche into a bowl, mix in horseradish, vodka if using and a pinch of sea salt, mix well.
Grate the beetroot using a regular cheese grater (as opposed to a fine grater).
Arrange blinis on a platter and top with a dollop of creme fraiche, a sprinkle of beetroot and a curl of smoked salmon.
Finish off with a sprig of dill.
Blinis can be used straight from the freezer, they usually are thawed by the time you have finished off the toppings.