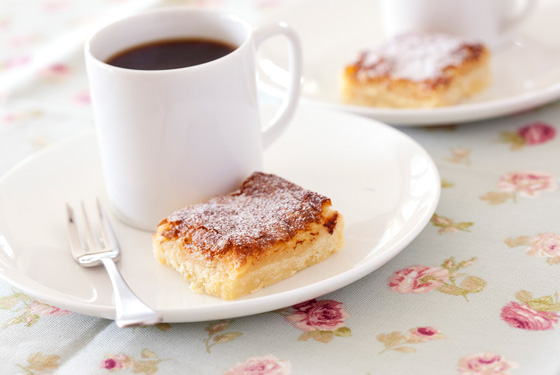 Sticky lemon slice is a recipe that pops up everywhere, this version, to the best of our knowledge is quite generic and has been shared around many community cookbooks.
Ingredients
225g butter,softened

1/2 cup icing sugar

2 cups plain flour

3/4 cup sugar

2 eggs

2 tablespoons plain flour

1 teaspoon baking powder

finely grated zest of 2 lemons

1/3 cup lemon juice

icing sugar for dusting
Method
Preheat oven to 170 C.
Beat the butter and icing sugar until pale and creamy, either with a cake mixer or in the food processor. Mix in the 2 cups of flour.
Press dough into a 20x 30 cm slice pan.  Bake for 15 minutes then remove from the oven.
While the base is cooling, make the topping.
Beat the second measure of sugar and eggs together until pale and creamy, add the 2 tablespoons of  flour, baking powder, lemon rind and lemon juice. Mix together.
Pour the mixture on top of the base, then return it to the oven and bake for a further 30-35minutes, or until golden in colour and firmish to the touch.
Cool in the tin, then dust with icing sugar and cut into squares. Transfer to an airtight container when cool.